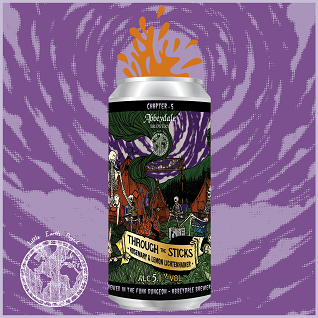 Sheffield Beer Week, which took place in March 2020, was the last real beery celebration that we all had prior to lockdown taking hold of the nation. As part of this, we discovered that Tom and Dani from the incredible Little Earth Project would be visiting our hometown for an event, and so we absolutely jumped at the opportunity to invite them to brew something special with us. That something special turned out to be… a lichtenhainer!
A lichtenhainer is a lightly smoked sour beer which is relatively rarely seen on shelves and bars. Our version contains hundreds of fresh lemons, along with bunches of rosemary foraged from the Little Earth Project farm and our gardens in Sheffield (does it still count as foraging if it's from your garden?!), all of which was added hot side on the brewday along with aged Dr Rudi hops at 3g/l. The codename for this beer prior to release was "Project Gravy", so we'll let you imagine for yourself the aroma in the brewhouse!
We primary fermented with our house yeast before barrel ageing in eight 180l neutral American oak barrels for 7 months. The barrels were third fill by us, with our house yeasts and bacteria happily infused in there ready to work their magic on this beer.
The intention was always to barrel age the beer and release it at our Funk Fest annual event – which this year, we had to hold virtually. We still managed to make the first pour a festival exclusive, with us holding a Zoom event alongside Tom and Dani to drink the beer together along with our festival "attendees"!
The smoked malt (we chose beechwood), whilst giving a gentle lick at the end, doesn't overpower and contributes to creating a beer which is overall light, zesty, and surprisingly rounded, with a well balanced herbal finish and a good whack of sharp acidity. It's less smoky than a traditional lichtenhainer, so don't be put off if you aren't usually a fan of a smoky beer – one of our Funk Fest At Home attendees described it as having a "friendly" level of smoke character! It's also a slightly higher ABV (5.1%) than would usually be seen in this style, which was a deliberate choice to ensure we were more likely to have a stable end product.
This is the kind of beer that everyone picks up on a different element first… let us know your tasting notes and what you find to be the dominant flavour (our favourite so far is "it's making the inside of my cheeks rain")! And whilst sweet, sour and smoke have overtaken savoury on the flavour, our festival attendees reckoned this would be a great beer to pair along with food and we're definitely going to try a beer butt roast chicken!
For anybody who would like to watch the tasting session as it happened at Funk Fest At Home (recorded live during the festival on October 30th), simply click play on the video below!
The artwork for this beer has been created by our designer James Murphy, and features our skellie friend on a camping trip. The hare in the foreground is inspired by our post-brewday trip to the Three Stags Heads in Wardlow Mires, which was the last pub we were able to visit before March's lockdown.
Through the Sticks is available now on our online shop, and to trade customers too, so look out for it popping up on the shelves of your favourite independent retailers!