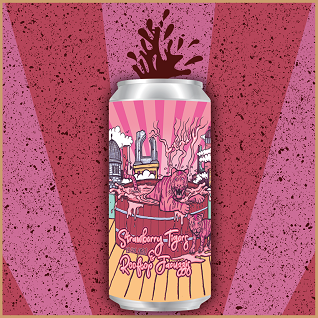 Our most outrageous beer yet has been (re)brewed and is making its way out into the wild for the second year in a row! Strawberry Tigers & Rooftop Jacuzzis is a 12.4% strawberry, chocolate, smoked, cherry wood-chipped imperial dessert stout, brewed in collaboration with craft beer artist, graphic designer and homebrewer Lewis Ryan, aka Lewy.
You'll be familiar with Lewy's work from many of our past beers, including our collaboration Autumn/Winter 2018, and Spring/Summer 2019 series', and can find out more about him in this blog post.
When we first got to know Lewy back in 2017, one of the first pieces he showed us was the artwork for Strawberry Tigers – a homebrew recipe that he'd created. We loved it, and it was that which sparked off our relationship, so it makes perfect sense that we've now been able to upscale Lewy's recipe to brew his beer on our kit.
The artwork itself has also undergone a few creative tweaks since then to pair perfectly with the beer it represents… the jacuzzi is an illustration of our beloved hopback (our original mashtun) and the background scenery takes inspiration from our surroundings here on Abbeydale Road. It's also the shiniest label our printers reckon they have ever seen, with metallic printing influenced by the Dufex technique, and of course plenty of Lewy's Pinkest Pink!
And the beer? Well, we reckon it does just what it says on the tin! Full bodied, puddingy rich and fruity sweet, with the complex flavours working together in balance and harmony. And whilst we haven't been able to do a launch event this year (last year at Industry Tap, with a live set from Lewy's band, was one of our 2019 highlights!) we do have a couple of extra special ideas up our sleeves, so watch this space for more details coming soon.
Cheers!