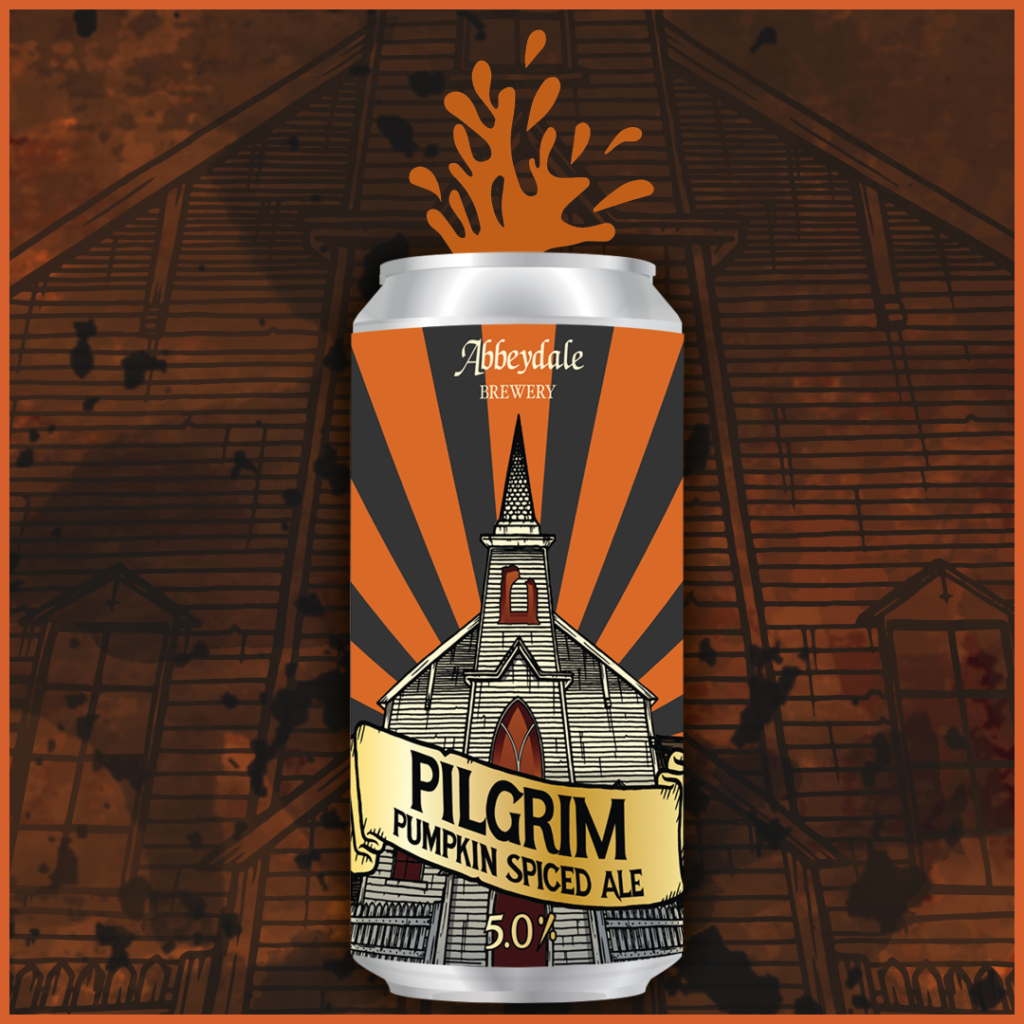 Good gourd! Autumn is fast approaching and with the cooling weather comes the release of arguably our most hotly anticipated release of the year… it's Pilgrim time!
Our pumpkin spiced pale ale has become, dare we say it, a bit of a Halloween icon that heralds the arrival of spooky season across the beery land. First released in 2017, our Pilgrim was originally inspired by a trip to the States to visit World Beer Cup award-winning Griffin Claw Brewing Co. Pumpkin Spice *Everything* hadn't really taken off in the UK at the time, but across the pond they're known for being just that bit more extra, and we brought a little bit of that back with us in the form of a secret recipe provided by friend of the brewery and much acclaimed American brewer Dan Rogers. We knew we were taking a bit of a risk that first time Pilgrim was unleashed upon our drinkers, but it immediately found its niche and it's been a popular seasonal special every year since, so we're incredibly excited to be bringing it back for 2023!
…AND THAT'S NOT ALL. This year, our intrepid little Pilgrim hasn't been alone on its sojourn, and has brought along a yet more audacious friend! Introducing TWILIGHT PILGRIM, a Pumpkin Spice Latte stout that's bringing a little bit of the dark side to this Halloween. Featuring the same lip-smacking blend of warming pumpkin pie spices as the OG Pilgrim and also coming in at 5.0% ABV, but with additions of chocolate malt, roasted barley and crystal rye for a rich, full body and toasty malt base, layered up with vanilla, lactose and coffee for dreamy PSL vibes.
And with all this, we've got some swanky new Pilgrim merchandise on the way – we'll have t-shirts, stickers, and Pilgrim packed gift boxes, PLUS look out for news of a pumpkin carving competition to win a load of beery goodies!
Cans of both beers are available RIGHT NOW on our online shop. As I type, a few casks of Pilgrim are still available but Twilight Pilgrim has entirely sold out in cask and keg on pre-order alone!
Cheers!