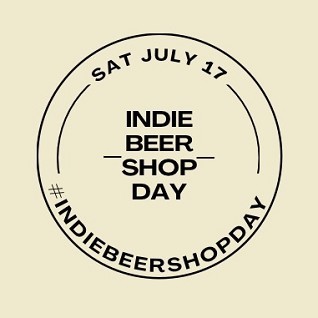 We're thrilled to announce that we've been asked to create a special collaboration in support of Indie Beer Shop Day, which this year takes place on Saturday 17th July.
Inspired by Record Store Day, Indie Beer Shop Day is an annual celebration which showcases the independent beer shop sector in the UK. Last year witnessed the first Indie Beer Shop Day, where Donzoko Brewery released Indie Graft in celebration of the sector. This year, the concept has built up momentum, with twice the number of independent retailers getting involved (over 100 altogether!) and with us being one of three breweries nationwide selected to release official Indie Beer Shop Day beers, which will be available exclusively from participating retailers from 2nd July.
We've named the beer itself Independence, in keeping with the theme! A 4.0% pale ale single hopped with Idaho 7, vegan and gluten free, intended to be deliciously sessionable and very accessible. Refreshing with delicious flavours of stone fruits, alongside tropical notes, hints of pine and a bitter finish.
Make sure you pick up a can before the day itself on the 17th, when we'll be taking part in a special virtual beer tasting evening hosted by the legendary beer write, Pete Brown. Find out more about where you can purchase it from here, and look out for the other two national collaborations from Pilot and Double Barrelled Brewery too!
Throughout the pandemic, with pubs closed for vast swathes of the past year, the support of independent beer shops was a critical part of our survival as a brewery, and the relationships we were able to maintain, build upon, and even create, were and continue to be hugely important to us. The indie beer shop sector is a vital link and valuable connection between us as a brewery and the customers within our community.
In addition, participating beer shops have all been invited to arrange events and local collaborations too, so there's all sorts going on! For every £1 spent in a local business, around 50-70p recirculates back into the local economy, so be sure this July to support your independent retailers on your local high street.
Use the hashtag #IndieBeerShopDay to get involved on social media too!
Cheers!