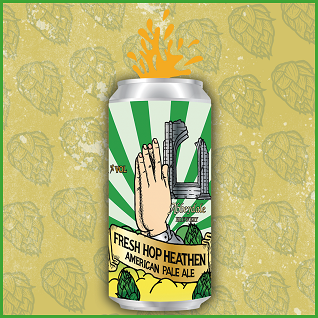 Introducing the story of Fresh Hop Heathen!
This brew saw us be amongst the first in the UK to have access to fresh hops from America, flash frozen immediately after harvest to preserve all the gorgeous delicate nuances found within these amazing little plants (a bit like what happens with peas!). This is the first time that this idea and project has ever been done globally, and the first harvest year that frozen fresh hops have been available to be imported and used by breweries worldwide, so we're incredibly privileged to be involved. The hops have come all the way from Washington State, where they were grown and processed by Wyckoff Farms, who are based in Grandview. They have been producing and exporting frozen fresh blueberries around the world for several years, which inspired the Frozen Fresh Hop project.
Our brewplan has been a little up in the air for the last few weeks with it being essential that we made this beer as soon as the hops landed at the brewery, so we eagerly followed the journey of our frozen fresh Mosaic across the Atlantic Ocean and all the way to our brewhouse in Sheffield. After a brief stay in Liverpool, they finally made it to us and it was straight to mashing in time!
We had a slightly more complex arrangement than usual for the brewday itself – hops went in at every single stage, from the mash, to the boil, to the hopback and onto the dry hop. The volume of hops was too high to fit in our regular hopback (there were hops everywhere!!), so after the mash was complete and the wort was in the kettle, we repurposed the mash tun vessel as a whirlpool to really get the most from these gorgeous little plants. The brewhouse smelt absolutely incredible, with all the tropical vibes we expect from Mosaic coming through in abundance alongside a vibrant zing which was less familiar, almost minty!
We've gone for the same ABV as "regular" Heathen (4.1%) for this one, keeping the beer lovely and light and overall incredibly drinkable. Expect the classic Mosaic aromas of blueberry and tropical notes to come through, and layers of juicy mango and ripe papaya atop a gorgeously fresh, grassy backbone. It's particularly special as this exact beer can never be repeated – even if we're lucky enough to get our hands on more fresh hops in the future, variations in the harvest mean that it will never again be exactly the same, so don't miss out on a real taste of terroir!
Fresh hop beers are a cause for celebration in the beer community, particularly in America, where release days often see queues all the way around the block. You've all been pretty excited for them here, too! This means that the majority of Fresh Hop Heathen (including all cases of cans!) was already spoken for via pre-orders (and subscription box customers, we set some aside just for you!), and has since completely sold out.
The keg Frozen Fresh Hop beers made in Europe are being showcased all together at event at Mother Kelly's in Bethnal Green, London, from Thursday 20th to Sunday 23rd January, where Fresh Hop Heathen will be pouring (on rotation) alongside beers from a selection of absolutely incredible breweries. Find out more on the event page here!
You can find out more about the project on Yakima Chief's website here. Don't miss out on the opportunity to sample a can or pint of this incredibly special beer, which we recommend drinking as fresh as possible – the London event may well be the last chance to give it a try!
Cheers!
Team Abbeydale