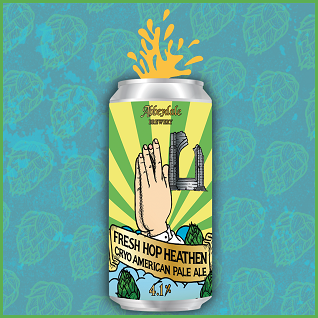 Introducing Fresh Hop Heathen: Cryo APA! All the buzz words, all of the flavour. This year we're pioneering the use of YCH 301 Mosaic hops from the Yakima Chief Hops Elite Product Trial programme… essentially freshly harvested, unkilned hops, which are firstly flash frozen (like peas or sweetcorn!) and then cryogenically processed. This state-of-the-art process keeps all those beautifully delicate fresh hop aromas and flavours, but with all that lovely lupulin concentrated down into a punchy little pellet! It's another groundbreaking development in the hop world, and we're thrilled to yet again be taking part in some of the very first brews making use of such an exciting hop product.
Using Cryo pellets (rather than the whole cones we used last year) means we can add them at any point in the brewing process more easily and more efficiently 2021's edition (and as an added bonus, the shipping is more environmentally friendly too). The hops still arrived to us frozen, which meant that we had a 48 hour window after arrival to use them in the brew. This has meant keeping our brew plan in flux for the last few weeks, whilst we eagerly awaited them to reach us, but we were able to use them both hot side on the brewday itself and then dry hop with them on day 2 – meaning that there is no need for any other hop additions at all other than our usual bittering hops, making this a completely "fresh hopped' beer. 3g/litre were added at the whirlpool stage, with a whopping 40kg (8.15g/l) of frozies added at the dry hop phase.
The aroma of the hops was absolutely spectacular – hugely zesty, with a fragrant lemon-lime character (does anyone else remember those Solero Shots?!). The brewday was a breeze thanks to our new kettle and its built-in whirlpool and the beer is now merrily fermenting away.
The recipe has been calculated to 40 IBU (lower than that of normal Heathen, which sits at 60) to allow for a little more room on the palate for the delicate fresh hop flavours to come through as clearly as possible, but still with enough whack to be Heathenesque!
We have kept the beer at the same ABV as "regular" Heathen (4.1%) to ensure the finished beer is light, refreshing and overall incredibly drinkable. Expect the classic Mosaic aromas of blueberry, citrus and tropical notes to come through, with layers of juicy mango and ripe papaya atop a gorgeously fresh, grassy backbone.
Cans are available via our online shop (including in a special "Heathen Trinity" gift pack), and trade customers can get in touch with us right now to reserve a keg or case – casks are already all spoken for, having sold out on pre-order alone! The beer is shipping from today (29th November onwards) and it will soon be available at our very own Rising Sun, as well as on bars in towns and cities including Leeds, York, Stockport, Huddersfield and many more, as well as all around Sheffield… give us a shout if you'd like any help in hunting down a pint!
Cheers,
Team Abbeydale