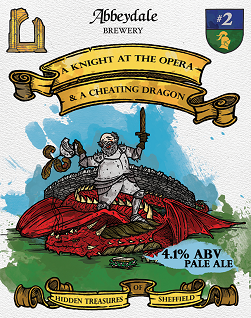 It's been a while since we launched the first of our Hidden Treasures of Sheffield series, Family Heirlooms & Tuneful Endings, but now that pubs are carefully re-opening we've been able to get our cask production back to a more usual level and release some more cask only specials! For anyone who needs a reminder, this series of pale ales is intended to shine a spotlight on the bits of our city that are unique, quirky, and often not very well known – celebrating our humble hometown by paying attention to the everyday history that so easily passes us by.
The second in the series is inspired by a favourite secluded little spot of John, our Production Director. In the woods around More Hall, across the valley from Wharnclifffe Crags in the north of the city you might just find yourself a dragon. The Wantley Dragon, to be precise!
The Dragon of Wantley was originally the subject of a satirical ballad from the seventeenth century. A portly knight (More of More Hall) clad in a bespoke suit of armour made of Sheffield steel (what else?!) manages to slay a huge cattle-and-child-eating dragon which has terrified our fair city for many a moon… by kicking it up the bum. Classy. A (now rarely performed) opera and novel are also based around the legend, and the "fabulous dragon of Wantley" is referenced by Sir Walter Scott in the first chapter of his most famous novel Ivanhoe, so it's not just us that have been inspired by this comic story.
The ballad accurately describes the landscape surrounding Wharncliffe Crags, and now a snaking stone wall with a dragon's head commemorating the tale can be found in nearby Bitholmes Wood. It can be a little tricky to locate, but this gorgeous walk from Stocksbridge Walkers Are Welcome contains directions as to how to find it and take in the local area too. The wall itself was created by John Alston, who recycled an existing wall into a dry-stone formation of the dragon in 2009. The huge head (which is a whopping 1.6m in length and weights a whole tonne!) was chainsaw-sculpted from elm by Mark Bell.
We've tried to pay a little tribute to all of the elements of the story in the artwork for this beer, created by our in-house designer, James Murphy. John likes to take a festive sandwich to eat by the wall on his annual Boxing Day walk, hence the dragon's snack that you can see in the foreground of the pumpclip!
The beer itself is an easy drinking 4.1% pale ale, hopped with Summit, Columbus and Chinook for notes of pine and grapefruit. Crisp, refreshing, and delicious, with a lip-smacking bitter finish. It's available in cask to our trade customers from Monday 17th August, and minikegs are currently available on our online shop.
With thanks to Dave Pickersgill for allowing us to use the above photograph, and for sharing his local knowledge with us too.
Cheers!