Where and when to find members of Team Abbeydale...
PLEASE NOTE THAT THIS IS NOT AN EXHAUSTIVE LIST, OUR CUSTOMERS MAY CHOOSE TO RUN THEIR OWN EVENTS SHOWCASING OUR BEERS.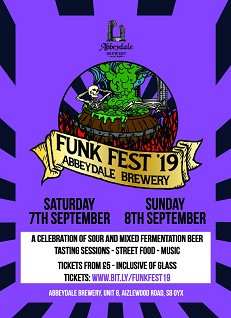 FUNKFEST is back.... With an exceptional line up of keg beer, tank beer and pours direct from the barrel this is sure to be the most mouth puckering beer festival you attend this year!
We have three sessions running over two days;
Saturday 7th September - 11.30am - 4.30pm and 5.30pm - 10.30pm
Sunday 8th September - 1pm - 6pm
£5 early bird tickets for the first 50 spaces on each session. £7 advance price per session inclusive of glass - more on the door if spaces are still available. Get yours here!
Please note that the event is 18+ only and unfortunately we are not able to accommodate dogs.
Street food, music, brewery tours and tasting sessions!
For any event specific enquiries please get in touch via events@abbeydalebrewery.co.uk
HOMEBREWERS - we are running a competition during the Sunday session of the festival, please visit https://www.abbeydalebrewery.co.uk/blog/post/?id=1873&blog=funk_fest- for more information!