A Monster Stout and a Beery Night Out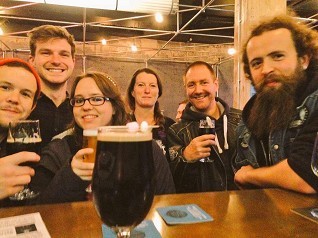 Firstly, we recently had our beery pals and Abbeydale neighbours Hop Hideout down at the brewery for the day to make an absolute goliath of a collaboration brew… Marshmallow Meltdown Stout, weighing in at 7% ABV, and chock full of robust flavours including coffee, chocolate and of course marshmallow, making it ideal to sup on whilst gathered round a bonfire at this time of year! The artwork was created by Ben Cooney, a good friend of Hop Hideout's, and it's pretty spectacular I'm sure you will all agree. You can read more about the collaboration over on Hop Hideout's blog: http://www.hophideout.co.uk/blog/2015/9/8/collabortation-brew-day-with-abbeydale. The beer debuted at Steel City Beer Festival in late October and is currently flying out all around Sheffield and beyond, so keep your eyes peeled!
Next up for us was an invitation to host a Tap Takeover and Meet the Brewer event at Sheffield's Brewdog bar. Our keg range is something we're incredibly proud of, so it was fantastic to be able to show it off at a venue so well known for its craft beers. Five of our beers were featured, - not only our widely available range, including our core keg, Mosaic American Pale, but a couple of specials too… the only keg of our black IPA, Black Magik, plus a nitrogenated version of the Marshmallow Meltdown Stout (which was served cocktail-style with a couple of mini marshmallows on top!). We made a proper team night out of it and all had a blast chatting away to happy beer drinkers! Big thanks to James and the rest of the Sheffield Brewdog team for having us down.
Look out for more updates and events as we move towards the New Year… 2016 will witness the celebrations of our 20th birthday, so we've got oodles of surprises in store!
Last Updated: 6th November 2015