Hop Topic! In celebration of British hops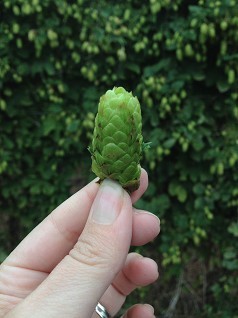 The recent trends in the beer world and the exponential rise in the UK craft brewing movement have resulted in a hugely increased influx of New World hops, with their promise of exotic aromas and tropical flavours often meaning that our more traditional hops fade a little into the background.
Well, here at Abbeydale we're on a bit of a mission to rekindle the love for the humble British hop! We're lucky to live in a country that takes great pride in its brewing heritage, with traditions that have spanned centuries continuing to this day (growing hops for a flavour addition to beer, rather than simply a preservative, first became popular in the seventeenth century). Our ways of growing hops are amongst the most cost effective and environmentally friendly in the world, with our mild climate and even rainfall throughout the year providing the perfect terroir for hops with delicate yet tantalisingly complex aromas.
The hop harvest for 2015 is now well underway, and continues throughout September and into early October. There are currently 28 commercially available varieties of British hops (more than double the number available less than 20 years ago) with a recent emphasis on intensifying hop flavour, to react to the changing taste buds of the beer drinker.
This year, Charles Faram hop merchants have reached their 150th anniversary. To partake in some of the celebrations, four of our brewery team headed down to the beautiful Stocks Farm in Worcestershire, where hops have been grown for over two hundred years… enough of them to make 46 million pints of beer! The farm is owned by the Capper family, who have decades of hop growing experience between them. Ali Capper also sits on the board of the British Hop Association (see www.britishhops.org.uk for more information) as well as chairing the Wye hops breeding programme, meaning there's also something new and experimental being nurtured at the farm.
We arrived at Stocks Farm on a typically British gloomy day to be greeted by the Faram's team and ten casks of beer, including a couple of Faram's own creations and newly crowned Champion Beer of Britain, Tiny Rebel Brew Co's Cwtch. After a few samples (all in the name of research of course), a good bit of networking with some fellow brewery folk, and announcements relating to this year's hop harvest worldwide, we headed off around the farm to learn more about how this intriguing crop is grown and harvested. We firstly wandered through the low trellis hedgerow hops, including Endeavour, which are generally easier to pick but have lower yields. The tall hops in the next field we reached are more difficult to maintain, but are well known for their aromatic qualities – Jester, a relatively new hop variety, was my favourite, with vibrant citrus notes. You could certainly tell the harvest was in full swing during our visit, with the chugging of harvesters to be heard and the air full of enticing heady aromas from the fresh hops on the plants. Next stop was the picking machine, which is absolutely enormous - filling an entire barn with a maze of what look almost like conveyor belts, designed to gently slope upwards which separates the cones from the leaves (the cones roll downhill much more easily, meaning they come away from the more stubborn leaves!). Once separated, the hops are ready to be dried in the kiln, before being subsequently cooled to allow the remaining moisture to distribute throughout the cone. After around 24 hours, they are ready to be vacuum packed and sent to the brewers, to be used in the creation of any number of delicious beers!
From Thursday 1st to Sunday 4th of October, the inaugural Catfest at the Devonshire Cat will be showcasing 24 beers brewed using British hops, including two of our own specials, one of which is a one-off dry hopped cask. These dates also coincide with Cask Ale Week, so there's even more reason to "hop" on board and raise a glass to our magnificent brewing heritage!
Cheers,
Laura
Last Updated: 18th September 2015