Update for our pub customers!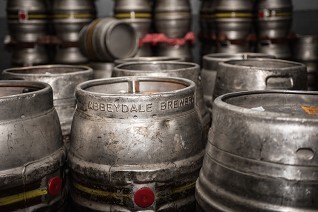 With it having just been announced that pubs will be allowed to re-open from Saturday 4th July (albeit with a number of conditions to fulfil), we thought it would be helpful to issue an update for our lovely trade customers, who we have missed dearly over the past few months.
Rest assured that here at Abbeydale Brewery, despite challenges to our business and putting in place substantial changes to overcome them, we are doing everything we can to retain a sense of familiarity in the "new normal" we all need to learn to live with.
Our brewteam haven't stopped throughout the lockdown period – although we did quieten down substantially, we have now increased production and are getting plenty of beer ready for the proposed opening date. We aim to have all of our core beers freshly in stock in cask (including 18s, for those of you who prefer these) as well as a good selection of keg products for you to choose from.
Alongside this, you may have spotted that we were very fortunate to receive delivery of our very own canning line a couple of months ago. We were able to get to grips with this in super quick time, meaning that we now have a wider range of products in can for anyone looking to re-address their product balance, including introducing or expanding a takeaway facility for customers. Moonshine and Absolution have both made the move into 440ml can, with Daily Bread to be available in time for pubs re-opening, and Deception and Black Mass to follow in the next few months.
Like our business has, we are very aware that your business is likely to be making changes. We understand that you may have different operating times and stricter policies, so please let us know if your delivery requirements have changed and we will do our very best to accommodate these. From our perspective, we will be doing our best to keep the regular delivery days you are used to (get in touch if you need a little reminder, we know it's been a while!), and our drivers will of course be adhering to social distancing and strict hygiene measures themselves.
Just in case you are not already aware, we have a provisional order system which new and existing customers alike are very welcome to make use of. This secures your beer for you but with no obligation for you to take it. So if you are planning to re-open on the 4th, let us know and we can reserve your stock – but don't worry at all if you experience any delays, we will happily keep it safe in our cold store until you are ready to receive it.
We hope you are all safe and well – please know that we are here to help, so do get in touch with any questions at all. Our office has been a little quieter than usual with some staff on furlough, however we are now staffing up and bringing the team back, so are pleased to say that our sales office will be reverting to its usual opening hours of 8am to 5pm Monday-Thursday, and 8 til 4 on Fridays, next week. Please just be aware that your usual contact may be working flexibly with some time spent working from home, but you can reach us by email or you're more than welcome to speak to anyone within the team, any time, on 0114 2812712. We are ready and waiting to take your call.
Last Updated: 24th June 2020