Deliverance - Sabro™ and Family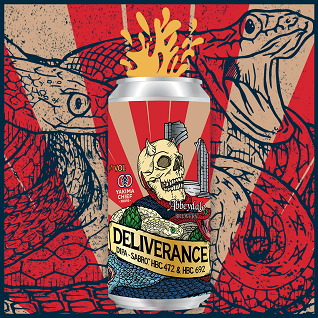 We are incredibly excited to welcome Deliverance back to our range after an absence of almost TWO YEARS… and we're diving straight back in with something truly special. Working in collaboration with Yakima Chief Hops, we've got our hands on some stunning experimental hops that we're amongst the first in the country to make use of. Welcome Deliverance – Sabro™, HBC 472 & HBC 692.
With each iteration of Deliverance, we use different hop varieties in carefully selected combinations, and those we have chosen this time are a little family of three, which all stem from the wild Neomexicanus species. HBC 472 and HBC 692 are both new hop varieties stemming from the amazing Sabro™ hop – which was HBC 438 until it was named. These hops come from the same lengthy breeding process that brought you Citra, Mosaic and Ekuanot, and we're already falling in love with Sabro™ and its family.
Yakima Chief Hops are a 100% farmer owned hop supplier. They're the only grower-owned network of family hop farms in the world - direct relationships with the brewers is something which establishes Yakima Chief Hops as world leaders in this field - so it was fantastic to welcome them to the brewhouse to help us create our limited edition collaborative beer.
Our new version of Deliverance is bursting with aromatics and incredibly juice-forward - pineapple upside down cake and mango coulis on the nose with a heady, resinous character. Masses of tropicality on the palate, with notes of dessicated coconut teaming up with bags more pineapple, peach and zesty grapefruit singing together in perfect fruity harmony. Full bodied and creamy, super smooth but with a lingering bitterness in the finish which really showcases the complexity and diversity of flavour that this chosen hop combination brings.
Here's a little more information on those little green nuggets of aromatic joy for all the beer geeks out there! Sabro™ Brand HBC 438 is itself still a relatively new release from the Hop Breeding Company (a group of farmers and scientists dedicated to nurturing, cultivating and eventually releasing new varieties of hops for us all to enjoy, who are based in the Yakima Valley) which is supplied through YCH's experimental hop program. Known for having a really unique complexity, it imparts distinct tangerine, coconut, tropical fruit, and stone fruit aromas, with hints of cedar, mint, and cream. Sabro's sister and daughter, HBC 472 and 692, share many of the same fruity, citrussy characteristics – we found a very distinctive Pina Colada note in the 472!
For all hops named HBC, this means that they are a newer hop from the Hop Breeding Company's programme. Eventually, if the hop proves itself a worthy component of that beverage that brings us all together, it is rewarded with its very own name (Mosaic was once HBC 369, and Citra was HBC 394). The whole process can take a very long time, with Sabro™ only becoming commercially available after two decades of research and trials. With hops being a natural product and so susceptible to the environment they are grown in, it's important to make sure that not only do they have desirable aroma and flavour characteristics, but also that they can survive and grow well.
The Neomexicanus subspecies, which all three of the hops used in our new Deliverance stem from, is itself interesting. Almost all commercially available hops are of European origin and descent, even those which are now bred in the USA, but in the Sabro™ family, we are able to make use of a genetically distinct sub-species of hops that have been growing wild in the New Mexico mountains for the past million years. Groovy!
To relaunch our Deliverance range, we've given our brewteam a little more flexibility, and so rather than it being the 9.0% ABV of our previous releases, Deliverance will now encompass all the things we love within the IPA category, but at a boosted level of alcohol in comparison to our more regularly available Voyager (which sits at an accessible 5.6%). So there's much more to come from this series, and the possibilities are ever growing, thanks to the efforts of not just our brewers, but also the hop breeders, growers, farmers and suppliers, who work tirelessly to ensure that the humulus lupulus that gives so much character to your beer is the very best it can be.
Cheers!
Last Updated: 4th March 2020