Sunfest 2019 - Charity Totals Confirmed!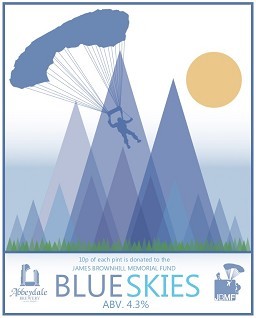 Our charity beer has officially now all SOLD OUT and we are delighted to be able to announce the total monies raised at Sunfest this year!
First up – our JBMF collaboration brew - Blue Skies - an easy drinking pale, hopped with Mount Hood named after one of James' passions, Sky Diving, and it's gone down a treat with pubs as far afield as Liverpool, Coventry and Cheshire (with plenty being supped in Sheffield too of course!). 10p from every pint sold will be donated straight to the charity – a grand total of £806.40.
In addition, James' family and friends were a valuable presence over Sunfest and they raised an amazing £1096 during the festival, from a combination of cake, pork pie and sausage roll sales (hands up if you're still dreaming about those!). Adding in your very generous beer tokens and spare change from the weekend gives us a total of £2286.20!
Some kind words from the family;
"All of us involved in the James Brownhill Memorial Fund (JBMF), which was founded after James was killed in a climbing accident on Mont Blanc in 2011, would sincerely like to thank Abbeydale brewery for "adopting" the JBMF as their charity for the Sunfest festival in the summer of 2019 where we ran the "Munchies" stall selling homemade cakes, buns and sausage rolls.
The timing of the invitation was perfect as the JBMF is reaching the desired target of funds in order to run the JBMF for 22 3/4 years, James' age, and offering bursaries to provide a week's course for leadership skills in winter alpine climbing conditions.
So the substantial funds we raised has provided the vast majority of the remaining monies required. The funds came from a mixture of sales on the "Munchies" stall, donations and the generous scheme whereby 10p is donated to the JBMF by Abbeydale brewery for every pint of the festival beer (Blue Skies) sold. We even had the honour of naming the beer and the name came from one of James' other pastimes which was Skydiving.
We have always been welcomed by the brewery and been given every opportunity to be part of the festival in order to keep James' name and spirit alive."
Whirlow Hall Farm raised £600 after all costs, to go straight to their charity, Whirlow Hall Farm Trust.
Last but by no means least, the ever popular Rain Rescue dog show raised £57.55 on the Sunday of Sunfest, and there were lots of waggy tails on the day, so another success.
A huge thank you to all of you who joined us for Sunfest, donated your beer tickets, munched on a hog roast sandwich or a sausage roll, or paraded your pooch in the dog show. And also of course to all of our customers who have had Blue Skies on their bars in recent weeks.
Last Updated: 10th October 2019