Slam Dunk Da Funk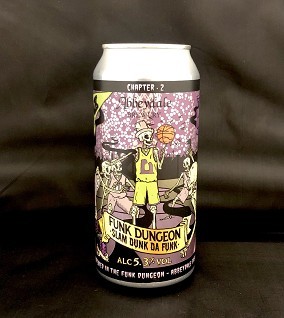 Created in collaboration with the marvellous Melissa Cole, a renowned beer and food writer, it seemed only right that we jointly developed a recipe for a beer inspired by food! And so we're pleased to introduce you to Slam Dunk Da Funk, a Persian inspired dark sour, fermented with kefir and infused with black limes, aromatic dried apricots, and heady sumac spice. Barrel aged for 6 months in our Funk Dungeon, it's fragrant and full of flavour with a tingle of acidity on the tongue. Quaffable solo, or the perfect accompaniment to Middle Eastern inspired cuisine. We've rustled up a lamb tagine as some inspiration (see recipe below), but do feel free to experiment and of course don't forget to let us know what you create!
If you'd like to try the beer for yourself, it's available on our online shop right here!
INGREDIENTS – serves 4 hungry bellies, or 6 slightly more restrained individuals
1kg lamb shoulder (chopped into 1 inch cubes)
2 large onions (chopped into roughly 1cm pieces)
2 red peppers (chopped into roughly 1cm pieces)
4 cloves garlic (chopped finely or puréed)
Chopped coriander stem (reserve leaves for garnish)
500ml chicken stock
2tbsp flour
2tsp salt
1 tsp cinnamon
3 tbsp ras-el-hanout
1 tsp lime powder
2 tbsp cumin
1/2 tsp sumac
1 tsp dried ginger
200g dried apricots
1 tin chickpeas (drained)
1 tin butter beans (drained)
Neutral oil such as groundnut or grape seed
TO FINISH
1tsp sumac
Zest & juice of 1 lemon/lime
TO GARNISH
Coriander leaves
4 spring onions (chopped)
TO SERVE
Buttered, seasoned couscous or bulgur wheat
Handful of pomegranate seeds
Crumbled feta cheese (optional)
METHOD:
Preheat the oven to 120C (use an oven thermometer to check you have the right temperature) and warm a heavy metal casserole through on the hob on a medium-high heat. Once the casserole is hot, add a good glug of oil, and give it a minute before you start to brown your lamb.
Meanwhile, mix the flour, salt, cinnamon, 2tbsp of the ras-el-hanout and the lime powder in a large bowl, add meat and toss to coat, before browning off in batches in the casserole dish - don't overcrowd the pan! Transfer the browned meat to a large, clean bowl.
Once all the meat is browned, drop the heat to very low and take the pan off the heat for a couple of minutes, before returning and gently frying off the onions and peppers for at least 15 minutes, stirring occasionally.
Then add the garlic for another few minutes, stirring a bit more often, followed by the cumin, ½ tsp sumac, ginger, remaining 1tbsp of ras-el-hanout and coriander stalk for another 5 minutes or so, stirring frequently.
Add the meat back to the pan and combine with the spiced onion mix, then add the apricots and stock making sure the meat is covered (add a little water if necessary), put the lid on and cook in the oven for 3.5-4.5 hours.
For the last 20 minutes of cooking, first check the meat is tender, then stir in the chickpeas and butter beans – you can add a little more water if it seems a little dry.
As you remove the pot from the oven, stir in the rest of the sumac, lemon/lime zest and juice, check for seasoning and adjust accordingly, then garnish with the coriander leaves and spring onions. Serve at the table in the casserole with a steaming pile of fluffy buttered couscous or bulgur wheat. Scatter over the pomegranate seeds (and the feta, if you choose to add this) for a final flourish.
Last Updated: 19th September 2019