Ryes From The Grave...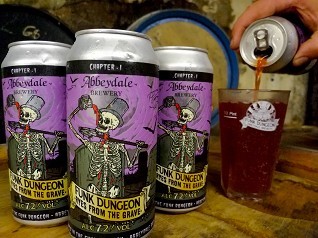 Ryes from the Grave is the first of an ambitious series of beers released from our Funk Dungeon barrel ageing and souring programme. Each of these is to have their own distinct identity and will be intended to showcase both the diversity of the beers resting quietly in our cellars, and the skill involved in meticulously blending them together. While we are still at the behest of Brettanomyces and its ability to ferment all the sugars we let it feed upon, we are confident that we are definitely at a point where we can really be proud of the time and effort put into these beers.
This beer is an expression of the history of the barrel project. It's made up of beers which hold some of our earliest work with yeasts and bacteria and their relationship over time with neutral oak, to some of our more recent barrel acquisitions which exhibit additional flavour characteristics that work hand in hand with our yeasts.
So what came first, the beer or the name?! That is a very good question, and one that none of us can quite remember the answer to. Either way, the base beer designed to be the backbone to the final blend (and making up about a third of it) contains a high quantity of Crystal Rye, chosen as it provides a tasty residual sweetness coupled with a spicy edge that amplifies the fruit content of the beer.
This base beer was fermented with our house sour saison yeast blend, with added sour cherries and blackcurrant puree. Primary fermentation took around two weeks, after which the beer was racked into freshly emptied barrels. The barrels themselves are now on their fourth fill, so provide a neutral oak character with a gentle hint of vanilla tannin. We left this to rest for four months before completing the blend for the final beer.
We then used a mixture of beers from older oak stock, to really enhance the complexity found within the final blend, using beer which was initially put into barrel between early 2017 and mid 2018. In this way, we feel that the final beer best represents the development of our programme and helps to show the burgeoning history which can now begin to be found within it.
The main component of the beer (about half of the final product) is a saison which has spent time in ex-red wine barrels. This was chosen as it adds a fruity tannic quality and a brett character, but overall wasn't particularly acidic. In order to reach the desired level of acidity, a small amount of a low pH imperial saison was blended in, which also helps to round out and amplify the cherry and blackcurrant notes without being overbearingly acetic. Finally, a small addition of a more simple and straightforward cleaner beer brewed with a hybrid yeast was added which helped to bring everything together, as our Funk Dungeon Lead Brewer Jim puts it "that was the seasoning for the rest of the blend".
This beer has come about as the result of a long testing process, where a number of different options and beers blended at varying quantities were shared with the whole team to allow the final outcome to be a true collaborative process. This beer, while it shows the influence of some of the classic Belgian styles and more contemporary US sours, also highlights that we are brewing, fermenting and blending our beers our way, with the intention of producing modern beer that is still steeped in tradition.
The beer itself a deceptively easy drinking 7.2% sour, refreshing and rounded yet blisteringly dry on the finish, with a high level of fruit acidity and a funky twang on the palate. Kudos to designer James Murphy on the stunning artwork too.
Ryes from the Grave is just one of the thirty lines we'll have available at Funk Fest this September 7th and 8th, head to bit.ly/funkfest19 to grab your tickets! We hope that you can get hold of this beer (it's available right here on our online shop) and enjoy it as much as we enjoyed working on it, and keep an eye out in the near future for the next beers from the dungeon.
Last Updated: 31st July 2019