Brewers and Bakers unite!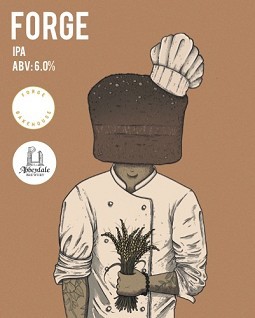 Next in our experimental IPA series we have teamed up with our good pals and Abbeydale Road neighbours Forge Bakehouse to create a recipe which celebrates our joint ancient heritage… that of the humble grain. Introducing Forge IPA!
We've been working with Forge Bakehouse since their opening in late 2012 – their festive mince pies feature our Daily Bread bitter, they've hosted a beer and food pairing evening where every single dish featured one of our brews, and their Caramalt Sourdough made with malt from our brewery as well as our Kid Ryenamite Baltic Porter won Runner-Up in its category at the World Bread Awards 2018. Of course our team here are regular customers on our lunch breaks too!
To create Forge IPA, we've gone back to the very roots of both brewing and baking and made use of the oldest known variety of grain. Einkorn is the most primitive of wheats, and was first grown over 5,000 years ago. It has never been modified by man and has a considerable advantage over modern wheat varieties in both flavour and nutrition. The gluten in einkorn is in a different form to modern wheats and is easier to digest. We've also added rye for a spicy finish - rye is similarly considered an ancient grain and benefits from the same sort of flavour and nutritional benefits as einkorn.
To complete the grist, there's plenty of our trusty Low Colour Maris Otter pale ale malt in there (by far our most used malt), torrefied rice which allows a gentle lightness in the final product, and torrefied oats which have given that silky mouthfeel without the heavier "milkshake" vibe that using rolled oats provides.
Amarillo, Citra and Simcoe hops and of course our inimitable house yeast complete the recipe.
In grain-ception news, the talented team at Forge have used a blend of flours and whole grains matching those used during the brewing process (with the exception of rice), as well as some of the beer itself, to create a delicious loaf. The use of einkorn and rye (in milled, whole grain and malted forms) gives a deeper flavour and much improved nutritional content. These are blended with high extraction and extra strong white flours to improve crumb structure and texture. Hydration is at 90% and total fermentation takes around 18 hours. Works deliciously with a can of Forge IPA!
To the early risers and magicians making your daily bread… this one's for you!
*Forge IPA is available now in cask, keg and can (you can grab a six pack from our online shop!). Trade customers please contact us via [email protected] if you are interested in stocking us.
Last Updated: 1st May 2019