Announcing Funk Fest '19!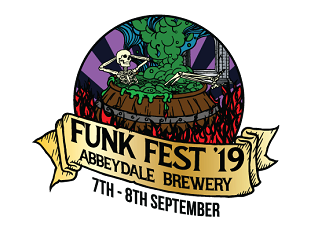 Yes, yes, we know we've only just finished tidying up after last weekend's Piss Up in the Brewery, but we had such a great time welcoming you all to our home that we just couldn't wait any longer to get cracking on the plans for this year's Funk Fest!
We've moved the date away from the bank holiday following feedback from last year's event, so are excited to announce that Funk Fest this year will be on 7th-8th September.
Expect a full line up of mixed fermentation and sour beer showcasing a multitude of amazing producers in this area as well as plenty from our very own Funk Dungeon barrel project, served across keg and cask. Of course we'll have the ubiquitous Moonshine available too as that perfect palate cleanser!
Music and street food will be on offer too, which we intend to be in keeping with our funky fermented theme.
We're also planning on running a homebrew competition during the Sunday session, with the prize being the opportunity to brew a commercial brew length version of your beer with our Funk Dungeon Lead Brewer Jim Rangeley… more details are now available here.
If you get in there quick, the first 50 tickets to each session are available at a special early bird price of £5, which includes your festival drinking vessel.
Tickets are available from bit.ly/funkfest19 now!
Last Updated: 5th August 2019