The Beer List is Here!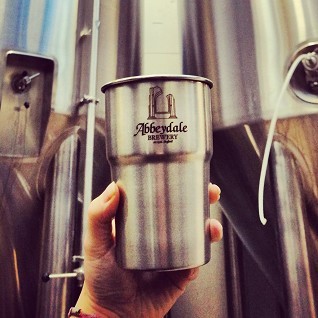 It's just over one week to go until our Piss Up in The Brewery event on April 6th and 7th… so we thought it was high time to share our beer list with you!
CASK BAR – All Abbeydale Brewery beers
Belgian Inspired Pale – 4.5% - **Collaboration with Melissa Cole** Belgian inspired pale ale with orange zest.
Brimstone – 3.9% - Amarillo hopped American Brown Ale, making a welcome return to our cask roster!
Encantada – 7.1% - The very last cask of our inimitable gruit!
Scott's Broth – 5.8% - **Festival exclusive** Earl Grey tea and lemon infused pale ale.
Tutti Fruitti – 6.5% - **Festival exclusive** Vegan oat milk stout with berries, dark fruits and spices.
We Need to Talk – 4.4% - **Collaboration with Festival of Debate** Willamette hopped pale ale.
KEG BAR – Abbeydale Brewery
12 Noon – 6.5% - **Collaboration with Wilde Child Brewery, Leeds** A crisp and clean West Coast style IPA, heavily hopped with Ekuanot, Amarillo and Eureka for a vibrant and fruity character packed with notes of papaya, orange and grapefruit.
Din Dins – 7.5% - **Festival exclusive** A Mosaic, Cascade, Citra, Ekuanot, Simcoe and Loral cryo-hopped powerhouse of an IPA!
Grafter – 5.8% - **Collaboration with the Devonshire Cat** DDH IPA packed with outrageous quantities of Sorachi Ace, Enigma & Vic Secret.
Heathen – 4.1% - Wonderfully refreshing pale session beer showcasing the marvellous Mosaic hops from America. Bursting with tropical fruit flavours and a pleasant citrus bitterness.
Heretic #1 – 4.5% - The first batch of our lager! Clean and crisp, refreshing and super drinkable.
Last Rites – 11.0% - Dry hopped barley wine. Superbly strong with a boozy aroma of caramel & fresh citrus. Smooth & robust with warming alcohol, lots of toffee, candied peel & dried citrus fruits.
Lil Boochie - <1% - **Festival exclusive** Hop Boocha - a fermented tea brewed with Citra and Mosaic hops.
Salvation – 5.4% - Breakfast stout with a robust backbone, and a hint of smoked malt for added complexity. Coffee from Sheffield based roastery Cafeology gives an intensity to the aroma alongside layers of bittersweet flavour. The most important beverage of the day?
Stroopwafel Stout – 10.0% - **Festival exclusive** Imperial stout brewed with maple syrup, vanilla, and one whole stroopwafel per litre!
Unbeliever – 4.9% - Sour beer inspired by the classic Pina Colada cocktail, with pineapple, toasted coconut and Sorachi Ace hops to provide a totally tropical sensation!
Voyager – 5.6% - **First pour** Our first cryo-hopped Voyager IPA! With Ekuanot, Simcoe and Mosaic.
Wanderer – 4.5% - Citra and Cascade hopped IPA, with fresh watermelon and dried hibiscus flowers adding a burst of juiciness, a delicate hint of tartness and a super refreshing finish.
From the Funk Dungeon:
Hop Bretta: El Dorado – 3.7% - An accessible bretted beer, using our house brett blend and single hopped with El Dorado.
Laid To Rest – 6.5% - **Collaboration with Fyne Ales, Scotland** Oak aged mixed fermentation pale, conditioned on dried apples for two months in ex-Speyside whisky butts for a rounded yet tart beer full of orchard notes.
Sow the Seeds – 5.5% - **Collaboration with Siren Craft Brew** Delicately bretted farmhouse IPA hopped with Mosaic and Simcoe. Notes of fruit and pine which harmonise beautifully with our house brett blend.
Wild Plum – 6.5% - A blend of three beers, with the oldest rested on plums from Heeley City Farm and finished with a touch of vanilla. Fermented with a combination of house and wild yeasts including those from the skins of the plums themselves. Slightly tart with a complex aroma.
KEG BAR – Guest beers
Brew York (York) – Skoda War – 11.5% - **Collaboration with Two Tribes** A cherry and tonka bean infused Belgian Quad.
ORA Brewing (Modena, Italy) – Balsamic – 6.0% - Milk stout brewed with barrel aged balsamic vinegar from Modena.
Ridgeside Brewery (Leeds) – Crack the Skye – 6.0% - A spicy rye IPA brewed with Chinook and Amarillo hops.
Siren Craft Brew (Reading) – Mind On My Honey – 10.2% - **Collaboration with Superstition Meadery** Expect a heavy honey aroma, big creamy mouthfeel, depth of flavour of Morita and Hatch chillis (from Arizona) and a gorgeous roasty base.
Thornbridge Brewery (Bakewell) - Heartland - 4.9% - English cellar beer, a modern take on a traditional style, brewed using Thornbridge's house cask ale yeast... but served on keg!
Torrside Brewery (New Mills) – Vapour of Reason – 5.5% - **Collaboration with Elusive Brewing** Torrside are on a mission to bring back the BIPA! Using tonnes of Simcoe, Citra, Centennial and Warrior hops.
Wild Card Brewery (London) – Queen of Diamonds – 5.0% - A continually hopped IPA. Hops are added continuously throughout the boil, developing a complex citrus flavour and fresh bitter edge.
Wilde Child Brewery (Leeds) – Opaque Reality – 5.9% - Mango and passionfruit milkshake IPA, with bags of Galaxy and Citra hops, and a decent hit of real fruits.
(Please note that these beers may not all be pouring at once and are strictly subject to availability!)
Hope to see you next weekend – tickets are still available via Party for the People, and include not only your entry but also a bespoke stainless steel pint pot and your first pint of Moonshine fresh from the tank to fill it!
Cheers!
Last Updated: 27th March 2019