Last Rites is BACK!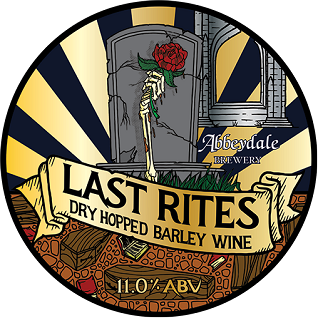 1997. The country was gearing up for a monumental general election that would culminate in a landslide victory for Tony Blair's Labour government and lead to the transformation of the UK and the world as we knew it.
2019. We're in the midst of a political maelstrom, with our position on the world stage about to change in ways that we are yet to discover.
And through all this time, despite all of the changes we've seen, there's been a deliciously boozy barley wine that has remained just the same…
First brewed on February 15th, 1997, and returning next week in cask, keg, and for the first time ever IN CAN, please welcome back Last Rites!
Brewed using a carefully selected combination of pale malts and all American hops, Last Rites is at heart a fantastically strong barley wine with tons of flavour. Our wonderful brewery owner and beery mastermind Patrick Morton originally set out to create a high gravity beer which somehow managed to still be eminently drinkable. Last Rites is just that – it's full of rich flavour to tease and satisfy the palate, an unusually smooth beer with tones of subtle caramel and a hint of roasted sugar which doesn't overpower the full malt flavour base. The bitterness from the hops keeps the sweetness in check and allows the fuller spectrum of flavours to reach the palate without the cloying effect that is often found with high alcohol recipes. We use a similar hop combination to Moonshine – Willamette, Cascade and Chinook, and originally Last Rites was brewed from the first runnings of our beloved flagship pale ale. We've been dry hopping it since 1997 too, so this technique is nothing new – the hops for this have changed a little over the years, but the new batch has been lovingly packed full with Cascade and Mosaic for a zesty citrus burst that rounds out the malt character beautifully, leading to a robust and lingering finish.
Brews of Last Rites haven't always gone to plan over the years, it's a tricky beast to get right and is the true mettle test for our brewers! Until 2016 only Pat had achieved the perfect brew to get the beer into spec, but when we brought it back after a 6-year absence to help us celebrate our 20th anniversary, brewer Jim (best known for his Funk Dungeon beers) was able to resurrect it successfully, with our Scott mastering it just before Christmas – despite it being even more difficult at this chilly time of year.
The key challenge is enabling the conversion of sugars to ensure a highly fermentable wort, allowing the beer to reach the desired 11.0% ABV. To achieve this, Last Rites is mashed in at a lower temperature (63 rather than 68 degrees C) and is fermented warm so as to not limit the yeast potential. We used US-05 yeast, which gets less stressed at higher alcohols and temperatures than our house culture. It took around three times as long to ferment than our beers usually do, requiring concentration, care and attention all the way through through the process… as Scott says, he became a beer nanny as well as a brewer. That's my kind of babysitting.
Last Rites has already had a longer conditioning period before packaging than is usual for us, and it will continue to age well.
Long-time Last Rites fans might also spot the new look for our barley wine, as it's been reimagined by our Brewers Emporium artist James Murphy to make sure it looks rite-fully (see what we did there?!) at home as a part of the Abbeydale family.
In short, in spite of its some-may-say fearsome alcohol content (11.0% ABV), Last Rites is a thoroughly delicious drink which has been brewed with every care for depth of flavour and true drinkability. It is brewed only infrequently and its drinking should therefore be treated with the respect becoming such a solemn undertaking.
Look out for Last Rites in cask, keg and can from Monday 28th January.
Cheers!
Laura (Office Manager and Last Rites superfan)
Last Updated: 24th January 2019
1 Comment:
Finished my afternoon session off with half a pint of Last Rites . Hit the spot , Great flavours , Too Job . Glad I took the leap to try it . - 1st May 2022 at 7:52:45 am
Add Your Comment