Odyssey 009 at Funk Fest 2018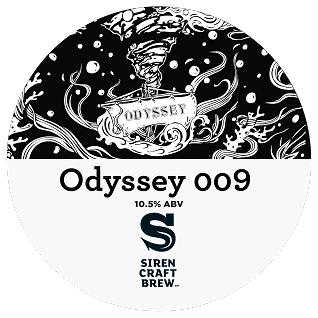 You may have already noticed that as part of our guest beer line up for Funk Fest 2018, taking place in the brewery itself this weekend (25-26 August) we've managed to get our mitts on a keg of something rather special from our friends at Siren Craft Brew down in Finchamstead.
Siren's Odyssey series varies with each iteration, but each release is designed to showcase the art of blending, comprising of a carefully concocted combination of an array of beers from their barrel ageing project. This has been such an inspiration to us and we hope that our Methuselah series within the Brewers Emporium, given time and as our barrel stock grows, can follow a similar path!
Anyway, onto Odyssey 009. Barrel House Manager Steve of Siren tells us: "It's designed as a big coffee style barrel-aged beer. It comprises ~45% soured stout in PX Sherry barrels, ~35% stout in bourbon barrels, ~20% saison with brett in red wine barrels. The idea was to find a blend that would suit coffee, with as many coffee attributes as we could include in the base beer. The stouts brought roasted chocolate character, the sour stouts and saison adding fruit and acidity, and the bourbon barrel aged components contributed sweeter tones. We chose a Brazilian coffee which accentuated the sweeter elements and improved the body.
The final blend/beer should be released in the next 2-3 months, so this keg, drawn when we made the blend, probably presents a bit more sweetness than the likely final product. But it's still great right now!"
If that hasn't made your mouth water, then we don't know what will! If this very first keg of Odyssey 009 is something you'd like to try, you can get your hands on a ticket to Funk Fest right here. Please note that this beer is very limited indeed, and whilst we will try our very hardest to ensure that some is available for all three sessions, we do have to point out that once it's gone, it's gone!
See you at the bar!
Cheers
Laura
Last Updated: 23rd August 2018