House beers - Funk Fest 18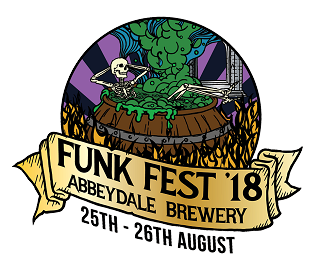 Funk Fest is just two weekends away! So we thought it was about time to let you know what's being released from our Funk Dungeon project especially for the occasion…
Brett Force Trauma (5.0%) – Bretted Mosaic American Pale Ale which began life as our core keg beer Heathen. With the addition of our house brett mothership the residual fermentable sugars have been fully fermented out, creating carbonation as well as amping up the ABV. Floral hoppy aroma balanced by an earthy brett character on the palate. **First Pour**
Brett Tangerine (7.3%) – The very last keg of the very first Funk Dungeon release. Heaps of orange character provided by orange peel and a Citra dry hop. Barrel fermented initially with Sacchromyces Bruxellensis Trois, with Brett Lambicus added for 6 months. Super dry with an FG of 1000.67.
Chorlton Blend (7.2%) – A blend of three beers from our barrel store carefully selected jointly by myself and Chorlton brewer James, plus Chorlton's culture and 36kg of raspberries. **Limited edition cask**
Creeping Brett (4.7%) – Collaboration with Yeastie Boys as part of their 10th birthday celebrations. At its heart this is a weizen, with the addition of spelt in the grist providing a little more complexity. Fermented with our house brett blend plus Lacto Plantarum and Lacto Brevis to create a pleasant lemony acidity bolstered with additions of lemon verbena and lemongrass. **First Pour**
Dry Hopped Imperial Saison (8.7%) – 25% DIPA, 75% aged saison, 100% fun. **First Pour**
Encantada (BA) (7.1%) - An aged Gruit, flavoured with mugwort, yarrow, juniper and heather flowers. It has then been aged in a 3rd fill French oak cask. Brewed originally in Feb 2017, this beer has spent 10 months in wood and a further 7 months in keg, conditioning and maturing along the way to provide huge complexity.
Forest Fruits (BA) (5.8%) – Collaboration with Coventry based Twisted Barrel. A barrel fermented release of our fruited rye beer aged in American Oak, the barrel's second use in the brewery. Fermented on redcurrants, blackcurrants and chuckleberries to create a spicy fruit beer that sings with soft oak.
Imperial Brett Saison (9.5%) - Barrel finished bretted saison. A high fermentation temperature has created pepper and herbal phenols, coupled with liquorice and star anise additions for a fragrant sweet spice.
Rye Sourdough (4.8%) – Created in conjunction with our friends and neighbours Forge Bakehouse, who are based just 100m from the doors of the brewery. Made using some of their leftover rye bread and fermented in wood with their sourdough starter culture. **Festival Exclusive**
Solera Salted Pineapple Sour (5.8%) - Mixed Fermentation Sour flavoured with salt cured pineapple and the first of our rolling special releases from the Funk Dungeon. A kettle soured barrel aged beer, blended back a little with fresh IPA to balance out the acidity and wood character.
Spilt Milk (3.9%) - Bourbon barrel aged bretted milk stout with a subtle hint of coffee and a creamy mouthfeel.
Unbeliever 6 (5.2%) - Sour IPA with heaps of fresh lemons and limes then dry hopped with Citra, Columbus and Mosaic. Wonderfully refreshing.
In addition, we've rustled up a gooseberry lemonade and a sour blackcurrant soda which will both also be available on keg. And Moonshine and Heathen will be pouring direct from the tank to refresh the palate in between all those funky little beasts!
Keep your eyes peeled over the next week or so as we'll be revealing the beer list for our guest taps very soon too…
Hope to see you on August 25th-26th right here in the brewery… advance tickets are still available online via bit.ly/funkfest18.
Cheers!
Jim Rangeley
Lead Brewer – Funk Dungeon Project
*Please note we cannot guarantee availability of all of these beers at all times during the weekend as they are almost all single casks or kegs. Strictly while stocks last!
Last Updated: 10th August 2018