Funk Fest 2018 - The Breweries!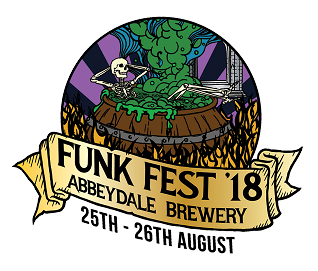 We've now (pretty much*) finalised our brewery line up and can confirm that during Funk Fest 2018, Saturday 25th-Sunday 26th August, we will be pouring beers from…
Bad Seed Brewery (Malton)
Black Lodge (Liverpool)
Chorlton Brewing (Manchester)
Elgoods Brewery (Wisbech)
Fyne Ales - Origins Brewing (Glen Fyne, Scotland)
The Kernel (London)
Landlocked Brewery (Derbyshire)
Little Earth Project (Suffolk)
Lost Industry Brewing (Sheffield)
Magic Rock Brewing (Huddersfield)
One Mile End Brewery (London)
Redchurch Brewery (London)
Siren Craft Brew (Wokingham)
Steel City Brewing (Sheffield) // Emperor's Brewery collaboration
Thornbridge Brewery (Derbyshire)
Twisted Barrel Ale (Coventry)
Wilderness Brewery (Newtown, Wales)
Woodman's Wild Ale (Cornwall)
Yeastie Boys UK (London)
PLUS of course plenty of releases from our very own Funk Dungeon Project!
*Please note this is subject to our Funk Dungeon brewer Jim getting overexcited and adding a couple of extra special treats over the next few weeks…
Like the sound of it? Click here to get your tickets now!
Read on for a little more on some of the extra special beers we've got up our sleeves…
We can now announce that our collaboration with Yeastie Boys, described in all its bretty glory in this blog post finally has a name! Creeping Brett is developing beautifully into a clean and lightly tart beer with a temptingly lemony character and just a burst of eccentricity, and we can't wait to debut it jointly at Funk Fest and Yeastie X. It also now has a face, courtesy of the incredible local artist Lewy (see more of Lewy's work on his website)… feast your eyes on THIS!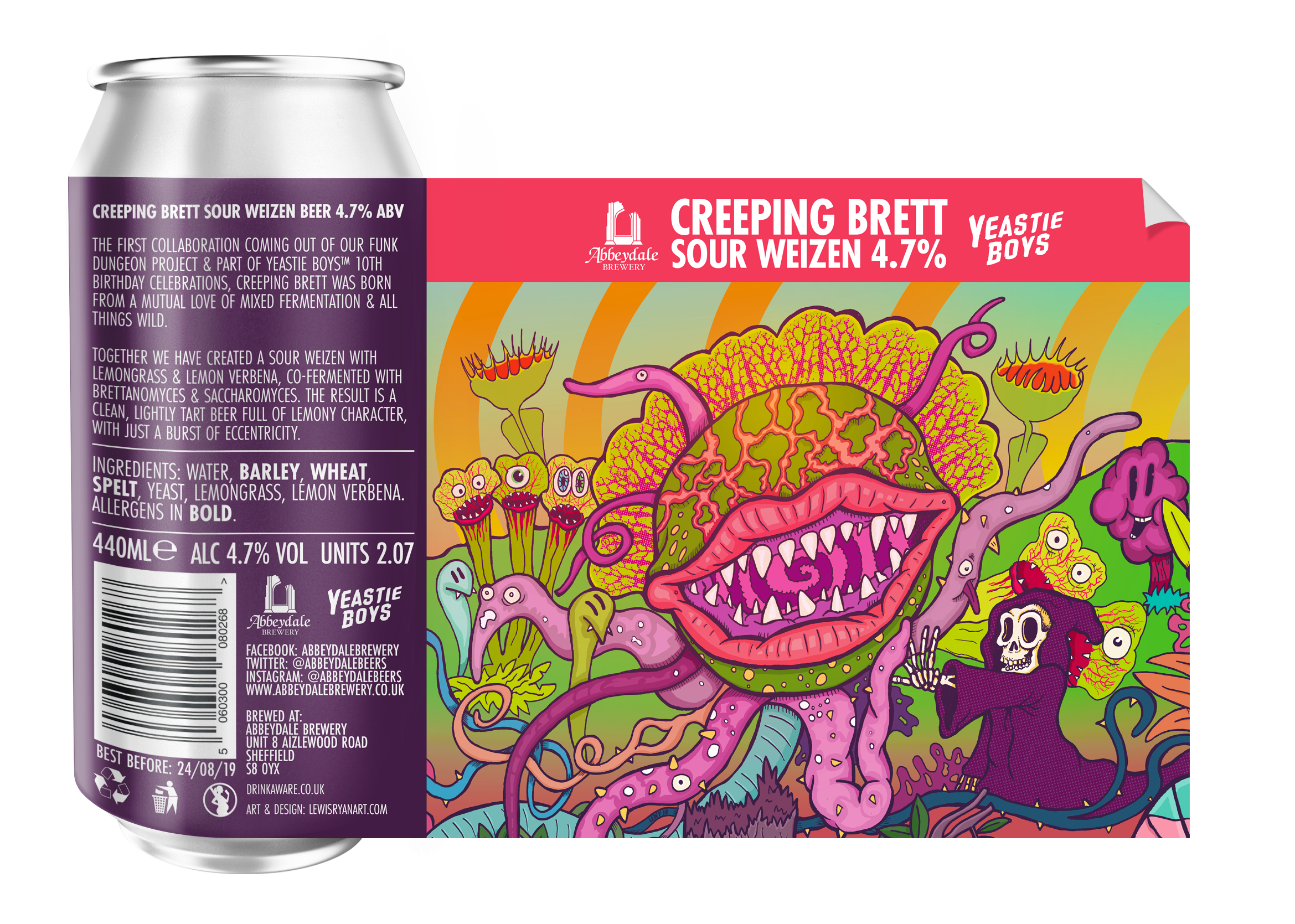 Next up - we've had a working relationship with our pals over at Chorlton Brewing Co for a while, having learned from their expertise and even using a little of their Sour Power for one of our Unbeliever releases last year. We have bumped into them at events throughout the country and beyond including at Amsterdam's amazing Carnivale Brettanomyces, which was a key inspiration behind this event. And so, we decided to use some of our sour beer and some of Chorlton's culture to create a unique blend of aged beer especially for Funk Fest. Having tasted our way through around 20 existing Funk Dungeon beers (what an arduous day that was), Chorlton's brewer James and our Jim decided on a final selection of 3 barrels… two saisons (one a mixed fermentation beer currently resting in third fill oak, the other the same base beer but a little more simplistic, and aged in red wine) plus a pale base beer fermented using an experimental Abbey Yeast which we are trialling for Lallemand, which is currently being aged in a first fill whisky cask. This combination gives a distinct yet gentle woodiness which balances well overall with a great brettanomyces character, but also had space overall for a little fruit addition. We thought the tartness of raspberries would bring that certain je ne sais quoi to the party, so 36kg was added to 580l of beer. A single firkin of this blend will be available during the weekend, with the rest of this very limited release being available shortly after.
And finally for now, there'll be a new collaboration quietly fermenting away in the heart of the brewery whilst we party around it. You should have spotted the wonderful Fyne Ales – Origins Brewing on our lineup, and not only will they be bringing along something special to imbibe over the course of the weekend, but we're delighted to announce that they're going to be brewing with us as well. Without giving too much away at this stage, we plan to take our shared ethos of creating distinctive and adventurous beers combined with Fyne's strong emphasis on locality and a sense of place to create something influenced by both of our surroundings. Watch this space!
Tickets are available online now.
Cheers!
Last Updated: 13th August 2018