Fyne Fest 2018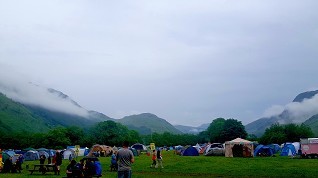 We're just back from our first weekend participating in Fyne Ales' wonderful Fyne Fest, and what a weekend it was. A superbly organised festival, with an outstanding beer selection that we were very proud indeed to be a part of. And just LOOK at that view!
Fyne Ales as a brewery is similar in age to ourselves and has followed a path quite like ours too. Alongside their reputation for creating high quality cask with an emphasis on pale, hoppy ales (their Jarl is magnificent!) they also produce a large range of exciting specials and have recently established their Origins Project, focusing on barrel ageing and souring (including mixed fermentation techniques) which give their beers a real sense of locality and provenance.
The Origins Project had its very own bar at Fyne Fest this year, and we were honoured to have one of our Funk Dungeon beers showcased alongside barrel aged and mixed fermentation beers from some of the very best in the business. We took along our Bretted American Brown ale, aged in second fill (for us) American oak with Brettanomyces for 15 months.
As well as this, our Funk Dungeon Lead Brewer Jim was invited to speak on a brewers' panel, chatting yeast, wood and all things mixed fermentation with Jonny of Beavertown's Tempus Project, Bates from Duration Brewing and Fyne's own Andrea, who heads up their Origins production.
Of course it wasn't all sour and funky stuff on offer and the main bar boasted over 250 different beers across cask and keg over the weekend. Coupled with upbeat live music, some great food stalls (oysters for breakfast is definitely a thing) and brilliant company, Fyne Fest was an instant highlight of our beery calendar.
Thank you to Iain and the whole Fyne Ales team for having us along!
Cheers,
Laura
Last Updated: 8th June 2018