Craft Beer At Its Finest - #OldAle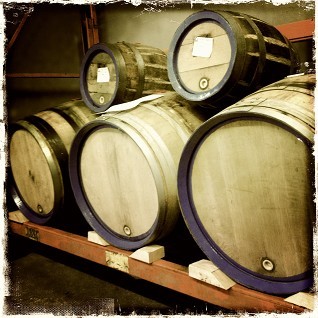 We haven't blogged about any beer for a while, so WOODn't you like to know what we have been up to recently? Well the observant amongst you may have spotted a wooden cask in the bottle room of the Dev Cat recently, or perhaps you tried one of the two on offer at SunFest, and it is our first foray into experimenting with wooden casks. We have bought some old whisky firkins which we have filled with both Absolution and Black Lurcher, and the whisky flavours have really come through and added something extra to these beers.
That got us thinking about ageing some of our beers at the brewery in wooden casks, so we ordered some 225L (approx 50 gallons/400 pints) White Burgundy oak casks. When any drink spends time maturing in wooden casks, the liquid reacts with the wood and there is an imparting of flavour. The colour of whisky comes from the wood* (it is a perfectly clear liquor when first distilled), and it will pick up flavour profiles (if the barrel is being re-used) from the previous contents, i.e. if you age something in a sherry cask, you will impart some sherry flavours.
So onto our beer, we have selected Old Ale, our take on an Old English Ale, strong (7.2% ABV), mid brown and full bodied, with a fairly sweet alcohol finish, to be our first try. And while we could have just put it into the wood and see what happens, we thought that wood be a little boring, so we have livened things up somewhat! So into each cask before filling, we added a bag of Jack Daniels wood chips (available from a well known DIY retailer, other wood chips are available!), a good dollop of top quality maple syrup and a big handful of the finest Galaxy hops from Australia. The beer was then poured in and after sealing each cask, we have to twiddle our thumbs for three months to let the magic happen!
Once that time is up, we are going to transfer the beer into our bright beer tank (maybe with some extra hops!) and then fill some of our shiny new 30L and 50L kegs. We will also be filling some casks with some unadulterated Old Ale, so we can compare and contrast.
What wood you like to see us do next with our lovely wooden casks? Please comment below, email [email protected] or chip in on Facebook (.../AbbeydaleBrewery) or on Twitter (@AbbeydaleBeers)
*Some distilleries add caramel to the liquor to add extra colour depth.
Last Updated: 16th September 2014