Double DIPA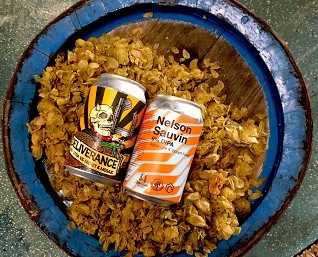 Double IPA (DIPA)… a hop-forward, high ABV pale ale, intense in both aroma and flavour and an immensely popular beer style in today's beer market.
The DIPA has become more and more prolific in recent years, and despite us being well-known for creating an entire plethora of hoppy pale ales, we'd NEVER, yes that's never, in 22 years made one. We've come close with strong IPAs such as 2016's much acclaimed Hop Smash, brewed in collaboration with Michigan's Kuhnhenn Brewery, and have experimented on our pilot kit brewing up 10%+ behemoths for one-off releases for our own festivals, but none have before gone on general release.
Well, now we've made two!
First up we created Deliverance, a new addition to our Brewers Emporium range. As with other beers within the range, the plan is for this to be a constantly rotating and evolving brew. For the first iteration we decided to go for a somewhat traditional DIPA (now there's a juxtaposition for you), with a high bitterness and in keeping with the West Coast style. The malt grist was comprised of primarily low colour Maris Otter pale ale malt, but with additions of Munich and Caramalt. These slightly sweeter biscuit malts worked well to balance with the hops – Mosaic, Galaxy, Citra and Vic Secret, which were selected to achieve maximum juiciness! Different dry hops were added at two separate points to provide a platform for them all to stand alongside each other in harmony rather than fighting for the foreground to allow for a balanced and full bodied final flavour.
Completing this season's double DIPA action here at Abbeydale, we invited Kev from Vibrant Forest to collaborate with us using one of our absolute favourite hops and one which Kev was keen to experiment with – the honourable Nelson Sauvin. This one doesn't fit particularly neatly within a particular category box – whilst the West Coast style is still apparent, we've also included a New England influence. The malt bill in this case included 15% oats and 8% rye, giving a silken and slightly spicy backdrop for the grape notes provided by the hops to really get their sunglasses on. We dry hopped with Nelson Sauvin at two different points so as to ensure full dispersion of the hops and a more intense flavour.
Aside from the mashtun being VERY full for both of the above brews, we also modified our mash temperature and process to allow for the production of additional fermentable sugars to allow us to achieve the high ABVs required. As such, mash in temperature was 63°C as opposed to our usual 66.5°C to provide optimum conditions for enzyme action.
In both beers, we used a US 05 yeast strain which provides a clean flavour and has a higher alcohol tolerance than our house yeast (which is perfect for our core range, but not quite robust enough for boozier beasts!).
In a beer with a high ABV, it's especially important to ensure that careful consideration is given to balancing the beer, and make sure that the flavour palette can stand up to the stronger alcohol flavour so that the beer does not become overwhelming, but retains a refreshing and overall tasty character. Although the finished beers came in at the same ABV, a hefty 9.0%, the diverse hops used and different finishing gravities (Deliverance came in at 12.1 and Nelson Sauvin at 8.8) ensured that each distinct beer has its own individual vibe – the Deliverance is bold and bitter yet balanced, whereas the Nelson Sauvin has a slightly softer, juicy mouthfeel.
We recommend storing these beauties at refrigerator temperature and drinking them fresh to allow those glorious hops to shine their very brightest.
Last Updated: 20th April 2018