Agent of Change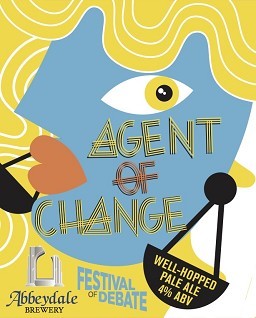 We are pleased to introduce our fourth annual collaboration with the Festival of Debate team – Agent of Change, a sessionable 4.0% pale ale perfect to ponder over.
Founded in 2015, the Festival of Debate explores politics, economics and society in 2018 through a series of panel discussions, debates, Q&As, artistic responses, keynote speeches and other public events in Sheffield.
The eye-catching pump clip for the beer was created by illustrator Lisa O'Hara, who told us about her inspiration for the artwork… "At the time of receiving this brief, I had been actively adding to a matchbox label collection - which made for a great source of inspiration, in their size and simplified content. I am particularly inspired by the aesthetic of Scandinavian designers like Olle Eksell and Marianne Westman. Since Festival of Debate encompasses people and politics I tried to incorporate a strong and empowered looking figure. Merging this with the beer pump format; simple geometric compositions, and a limited palette - I had a lot of fun getting to the final design. Opus are an excellent bunch to work with and trusted me a great deal, which was refreshing!"
Festival of Debate is coordinated by not-for-profit company Opus Independents in collaboration with over 40 partner organisations across the city. This year's programme takes place in April, May and June and features over 70 events of all shapes and sizes – the biggest programme yet.
This year's Festival strands are Culture, Self & Identity, Democracy & Activism, Fairness & Equality, Futures, and Science & Environment. As well as having produced Agent of Change in support of the festival, this year we are also very proud to be sponsoring the Democracy and Activism strand… so keep your eyes peeled for the Abbeydale team at some of the events!
Festival founder James Lock said: "Our chance for a better world comes from facing issues head on, learning new points of view, making the effort to listen and being empathetic with one another. We believe this is everyone's responsibility and hope that this year's Festival programme goes some way to furthering that ideal."
The Festival of Debate starts on 18th April and runs through until 29th June. For a full list of events, to purchase tickets for paid events, and to find out more information about the festival, please visit the Festival of Debate website.
There's absolutely tons going on and something for everyone, so do get out there, enjoy the events, get involved in the debates, try our collaboration beer and let yourself be an agent of change!
Last Updated: 10th April 2018