Abbeydale and Founders Collaboration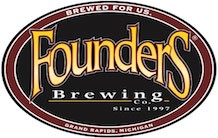 Although they will surely see some of the sights of the Steel City, the team from America's 26th largest craft brewery hasn't just come as tourists. They plan on teaming up with Sheffield's own Abbeydale brewery to collaboratively create a beer representative of both sides of the Atlantic.
How did the collaboration come about?
Upon conducting a "Meet the Brewer" event at a pub in Rugby, Abbeydale owners Sue and Patrick Morton were introduced to a fan of their beer, Jon Conroy, who just so happened to become the UKs sales rep for Founders Brewing Co. This serendipitous meeting lead to Jon bringing over president of Founders, John Green to the UK and visiting Abbeydale Brewery in person.
After the obvious passion both sides shared for beer was expressed, the Founders team wondered how their "complex, in-your-face ales" would work as a cask-conditioned beer. With Sheffield having been quoted as "Britian's best beer city" in the New York Times and Abbeydale producing Sheffield's most popular ale*, a collaborative brew between both breweries seemed the route to take to answer this question.
What can we expect from the beer?
We've been told to expect a strong, full-bodied, pale golden beer packed full of American hops and English malt. At present, the exact hop recipe has been kept closely guarded; although rumour has it, Founders brewmaster Jeremy Kosmicki is bringing a "box of something interesting" over with him to complement Abbeydale's already impressive and extensive hop range.
Interesting is a word certainly applicable to Founders' beers as their ethos of creating "beer that pushes the limits of what is commonly accepted as taste" has lead them to the create such masterpieces as "Kentucky Breakfast Stout" an 11.2% American Double/Imperial Stout which has been brewed with coffee and chocolate, placed into oak bourbon casks, then left to mature for one year 80 feet below the ground in the gypsum mines of Grand Rapids, Michigan. Its transcendence has since been rewarded with a ranking of one of the top 10 beers in the world**.
Although American hops are something used widely at Abbeydale Brewery with the US grown Willamette hop featuring predominately in Moonshine, and other big hitting US varieties such as Simcoe, Citra, Centennial, Sorachi Ace and Columbus being used regularly in their extremely popular "Dr. Morton's" range, owner Patrick Morton stated "We're looking forward to venturing out of our comfort zone and into hop-forward American pale territory". After the success of Abbeydale's own 6% "North American IPA", taste buds are already tingling in anticipation of the collaboration with a brewery ranked 3rd best in the word***.
A superlative sup will hopefully not be the only outcome of the Founders visit, as both sides seek to learn from one another about their different approaches to beer.
America has very little tradition of cask ale, so having the chance to brew a beer at a busy cask led microbrewery, will provide an in depth education into the processes of creating, distributing and dispensing cask ale. Brewmaster Jeremy Kosmicki has also expressed his excitement of using brewing equipment seldom seen in America.
On the other side, Abbeydale have only just recently started experimenting with kegged beer, with their first two beers aptly named "Pale Ale #1" and "Pale Ale #2", respectively, being distributed earlier in the year. They now have the opportunity to learn from a brewery that is planning to brew 200, 000 barrels in 2014.
The beer will hopefully be ready for distribution around the middle of May and with America's tradition of kegged beer and the UKs tradition of cask, it only seems appropriate that the collaborative brew be destined for both.
On Tuesday 22nd April, there was a chance to meet some of the Founders Family as the Devonshire Cat on Wellington Street hosted a "Meet the Brewer" evening with a full range of Founders beer available. But, if you missed it, you need not panic! The Devonshire Cat now plans to regularly stock their beer.
* Moonshine is Sheffield's most popular beer as judged by Sheffield and District CAMRA's beer capital survey
** "Kentucky Breakfast Stout" 8th highest rated beer on Untappd.com (correct as of 22/4/14)
*** Ranked 3rd best Brewery in 2013 by ratebeer.com http://www.ratebeer.com/RateBeerBest/bestbrewers_012013x.asp
Last Updated: 9th September 2014