GUEST POST: Beer and food with Ros Ayres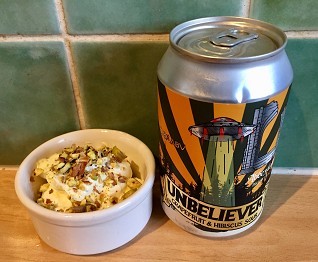 In the first of a new series, we've invited Ros Ayres, a local blogger and food expert, to share her thoughts on our beers and come up with a special food pairing. Ros is a Sheffield based food blogger at Nibbly Pig and is also the food editor for Now Then Magazine.
Here's what Ros made of her trip to the brewery…
"I love hearing the stories behind food and drink businesses and learning more about what drives people's passion and creativity. It makes me truly appreciate the hard work and heart that's gone into creating a product.
With over 20 breweries in Sheffield and such a choice of types of beers available from pales, IPAs, stouts to sours - there is much to say about beer. Abbeydale Brewery are producing some interesting new ales and I chatted to Sales and Marketing Director, Dan to find out more… as well as giving myself the challenge to come up with a food pairing for one of their beers.
Over the last year, the brewery have been working with different ingredients, developing recipes and considering tasting notes to bring a little bit of something extra. The whole team work collaboratively to come up with beers, the brewers get experimenting to check it will work and most importantly that it will taste good.
You might have seen their cans featuring ranges including Unbeliever, a sour, Salvation, a stout and Voyager, an IPA. For these specific beers, the recipe is varied at intervals to mix up the flavours and give us punters another beer to sample. For example, there's been a rice pudding, coconut and rocky road version of the Salvation stout amongst others.
Dan explained it's all about learning, and working on collaboration brews is another great way the brewery share knowledge on both sides. The latest is A + B, a double dry hopped pale made with Bad Seed Brewing, which uses Lemondrop, Centennial and Cascade hops.
Abbeydale make a new beer every week, each brewer shares their expertise and ideas, then a lot of groundwork goes into formulate new recipes and then the brewing proper happens. 50% of the beer produced is distributed within 5 miles of the brewery and is available to buy in local shops and in pubs, including Abbeydale's own, The Rising Sun, Fulwood Road and Devonshire Cat, Wellington Street.
There are longer term 'experimenting' projects happening too and Abbeydale brewer Jim is currently working on the Funk Dungeon. These are a range of slow-fermented barrel-aged beer which will take on average between 6 months and 2 years to produce. The aging process gives more in-depth characteristics to the beer which you don't get in quicker brewing. They don't taste like a traditional ale and will appeal to different audiences who may not like mainstream beer.
New flavours to explore and making beer more accessible to more people can only be a good thing.
A sweet and sour pairing
I'm a fan of sour beers and they're getting back on trend with breweries, although it's actually one of the oldest beer styles. I decided to match Abbeydale's sour, Unbeliever #4 (made using hibiscus and grapefruit) with a dessert, working on the contrasting principles of sour and sweet.
I used a recipe from Sophie Grigson's book Spices to make Shrikhand, a traditional Indian sweet yoghurt flavoured with saffron and cardamom and topped with nuts.
For me, recipes are all about combining flavours, textures and colours and here I got to tick all of those boxes. The Unbeliever is bright pink from the hibiscus which provided a vibrant contrast to the saffron yellow dessert decorated with green pistachios. Flavour-wise, the beer was refreshing with a zesty zing which worked well with the earthy spiced shrikhand.
Cheers.
Ros"
Last Updated: 6th April 2018