Stoneworks Tap Takeover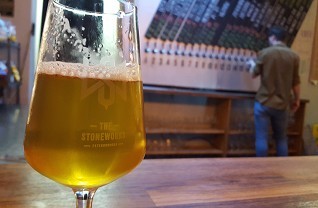 It all started back at Salford Beer Festival in October last year, when festival founder and all round top bloke Jim Cullen introduced our brewer Jim to Steve – owner of Bexar County Brewery and co-owner of Peterborough's premier craft beer bar, The Stoneworks. Steve came along to a bottle tasting of our then brand new Funk Dungeon releases, and to our surprise and absolute privilege, instantly invited us down to host a twenty-two line tap takeover at his bar – the largest event of this sort for us to date. We managed to wrangle ourselves a collaboration brew into the bargain and so last week we hopped on the train down south ready to create something truly unique.
Bexar County Brewery is a 7.5 BBL plant located on the outskirts of Peterborough city centre. Steve, who originally hails from Texas, is well known for his experimental brews with a massive emphasis on creating weird and wonderful flavour combinations. The idea we'd jointly agreed on was a beer based on the classic cocktail Dark and Stormy, usually a rum based beverage with generous flavours of lime and ginger. To recreate this in beer form, Steve's approach was to close down the rest of his brewery production for an entire fortnight and rustle up a large batch of lime kombucha, essentially a tea which is fermented by a scoby – a symbiotic culture of bacteria and yeast - which grows to suit its environment ("a bit like a goldfish, then" being Laura's key observation here). The result was a deliciously refreshing drink with a great hit of lime in there, and a giant scoby destined to be fed to Steve's lucky chickens!
With the kombucha already made, all that was left for us to do on our brewday was get this hybrid beverage ready to make some alcohol! We were aiming for a dark beer, with chocolate and black malts added to the malt grist. 1kg of Perle hops went in at the start of the boil, just to add a gentle bitterness as well as stabilise the beer, along with 20kg of dark sugars and jaggery for that classic rich sweetness, reminiscent of the rum usually used in a dark and stormy cocktail. At the end of the boil, the wort was transferred through the under back, which was packed full of ginger tea to add a spicy element to our finished brew.
Once the beer, to be named "Death of Tomorrow", was safely in the fermenter and the yeast pitched, it was off to the Stoneworks for our Tap Takeover and Meet the Brewer event. The Stoneworks is Peterborough's only dedicated craft beer bar, with 22 keg lines giving scope for an interesting and progressive range of beers, alongside a carefully curated cocktail selection (the Mezcal Margarita was a big hit!) and enthusiastic and knowledgeable staff, some of whom we were particularly pleased to see drinking there with us on their night off! It was also great to meet the team from other local breweries including Oakham, 3 Blind Mice and Baker's Dozen. The bar was buzzing with a lively atmosphere all night and the beers seemed to go down really well. A special keg version of Deception was the first to kick on the evening, with the only keg of Absolution ever made (to date!) and Voyager 7 and 8 not far behind.
Before we left Peterborough, we also popped over to the Hand & Heart, a cask only bar out in the suburbs that's had over 200 of our beers on over the years. Run by the charismatic Bram and Sue, they had also decided to dedicate all of their lines to our brews for Easter week to coincide with the Stoneworks event.
And a quick final note – we hope to get Steve back up to Sheffield for a return collaboration in late November… just round about the time of this year's Salford Beer Festival! Look out for news on tickets and more on twitter @salfordbeerfest.
Last Updated: 3rd April 2018