Pre-book your Abbeydale beer for your home Christmas party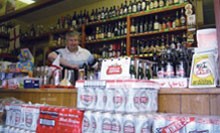 Fancy some of our lovely Christmas themed beers or even some of our tried n' tested regular beers for your home Christmas party this year?
Pre-book your beer in; 9 gallon casks (that's 72 pints if your feeling thirsty!) or 4.5 gallon beer box's for the slightly less ambitious. Contact Dave at Archer Road Beer Stop on 0114 255 1356. 57 Archer Road, Sheffield, S8 0JT.
Last Updated: 9th September 2014