Now Then Magazine Celebrate Their 5th Birthday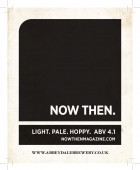 Happy Birthday to the guys at Now Then magazine Sheffield (and now Manchester).
To celebrate, they asked us to do a beer for them...again.
When you start serving this beer OR purchase a pint of it, please tweet @AbbeydaleBeers or @NowThenMag using the hashtag #nowthen5, or email [email protected] Any stories you wish to share - let us know where you are, who you are and most importantly what you think cos we think it's right good. Cheers!
Last Updated: 9th September 2014