Meet the Artist - James D Murphy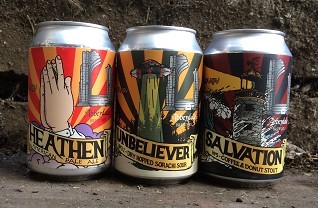 Here at Abbeydale, one of the things we're well known for is our bold branding. We launched our Brewers Emporium range early in 2017, and knew we needed a look that was eye-catching, distinctive and unique, which would really help us to shout about these beers we're so proud of… and so we turned to James Murphy, who having designed the Heathen badge the year before knew us well already! You'll be familiar with the look of these beers by now, so we thought it was high time for you to get to know James himself a bit better too!
Hi James! Tell us a little bit about yourself! How did you first get into illustration?
I'm a Leeds born illustrator currently living in a green and leafy part of London. I studied at Art School back in Leeds and have been doodling and drawing for as long as I can remember.
I have an eclectic portfolio of work built up over 15+ years of long nights and reams of paper. I've worked on skateboards, longboard decks and large shop and brewery murals amongst other fantastic jobs. I've also been fortunate enough to work with various bands, both up-and-coming and well-known - producing merchandise like t-shirts, hoodies and gig posters as well as album art.
How would you describe your own artistic style?
This is always a tough question to answer. When I set out to create something, my aim is to make it strikingly bold but equally detailed. I want the viewer to want to delve further into the image and spend some time looking at it, particularly when it's a commercial piece of work. I definitely don't want it to be glanced over.
A lot of my work is mainly black and white, so I like to use a number of different pen sizes to get nice thick, crisp, clean lines.
I've been told I have a distinctive style and I ain't going to argue - that's great to hear. No one wants to be the same as someone else. I guess that's up to others to say though.
What is your inspiration behind the Brewers Emporium range?
Abbeydale Brewery has been great in allowing me the freedom to do what I do best - and we've also worked a lot together creating representative colors and creating complimentary colour pallets.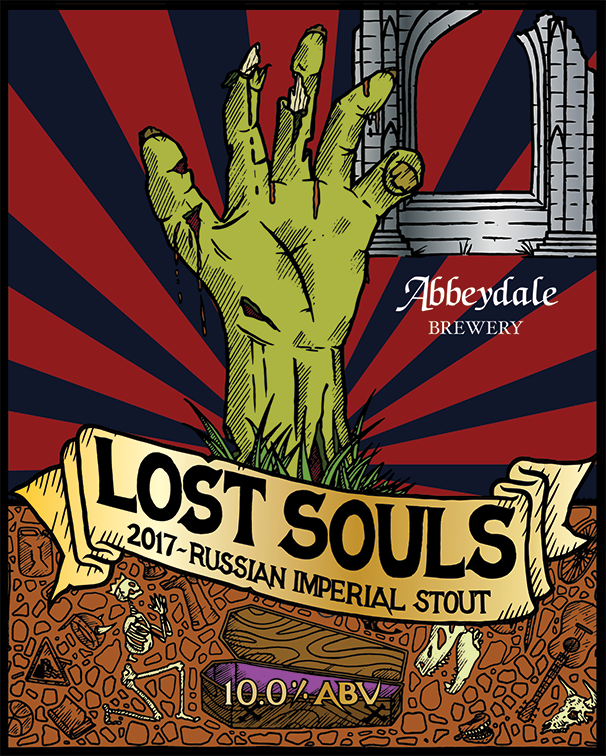 There's no denying the brewery's ecclesiastic links. This has played a relevant but not overpowering influence in the designs and compositions we have come up with.
In trying to stand out in a busy craft beer market, we've looked to give Abbeydale a unique look, which can be difficult due to the limited size of pump-clips and cans etc. I hope we've succeeded. I feel we have. It has been great fun producing images as diverse and as challenging as tall ships (Voyager), a UFO (Unbeliever), a zombie hand (Lost Souls) and some nasty looking snakes (coming soon!).
When Abbeydale give me a beer name, I try not to take it too literally - that can make the image a bit too predictable.
Which other artists (both within and outside the beer community) do you most admire?
There's a lot of great artists currently plying their trade with breweries at the moment. I'm a big fan of Kev Grey's work with Black Iris Brewery - the clips and cans are so clean and clear and I love the images. It's also good to see Drew Millward's distinctive work appearing on Northern Monk's patron's project cans. I'm a big fan of Brooklyn Brewery's classic design, created by the acclaimed Milton Glaser - he designed the I 'heart' NY iconic logo too!
As for outside of the brewery world, I have to say I am fortunate to be friends with two amazing illustrators. The first is Matt Hodson (Matthew the Horse) whose character illustrations are always so pleasing and full of mirth. John J Pearson is another whose work just gets better and better. He is currently producing graphic novel wonders, movie posters and live art murals in Leeds. I'd love to see them work on a can or pumpclip design. Do find out more about them both.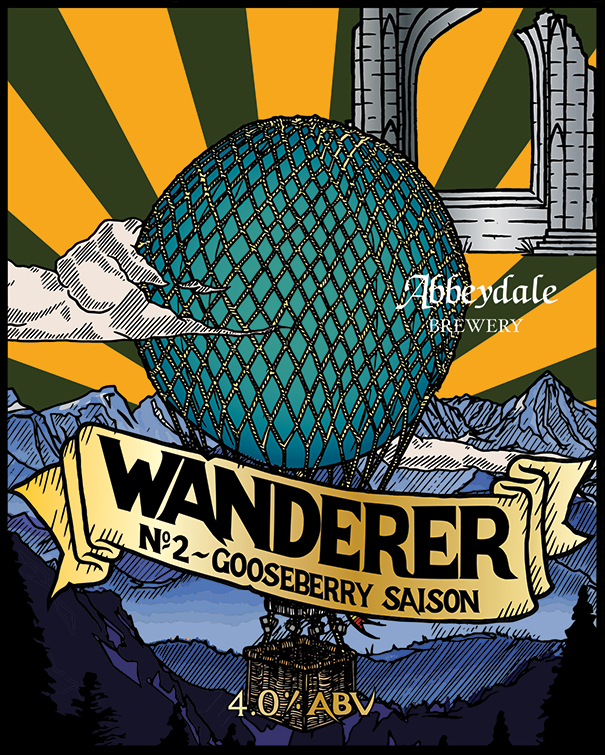 Do you have a favourite piece that you've created for us at Abbeydale?
I have a few. It's been fun. When it's fun, I work better.
If I had to choose one, it would have to be Lost Souls. Close second would be Wanderer. Both designs are borne out of conversations with friends a long time ago so it's good to see them come to be.
Other faves are Salvation (Lighthouse) and Pilgrim (Church).
And finally – when you go for a beer yourself, what sort of style are you most likely to choose?
I'm a creature of habit and IPAs are what I first started drinking properly. Voyager #1 is my favourite so far from the Brewers Emporium range. I like Pale Ales just as much and outside of Abbeydale, Little Creatures is ace, as is Vocation's Pride and Joy American Pale Ale.
Check out James's website for more!
Last Updated: 4th December 2017