The Funk Dungeon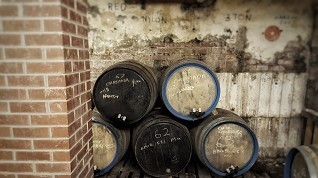 Over the past few months, you may have noticed that we've been releasing some rather intriguing and unexpected brews from our equally intriguingly named Funk Dungeon. Our brewer Jim is the brains behind much of what's been going on in the slightly creepy space in our cellars, and he's put this post together to give some insight into where we're at with the project, with another post to come to let you know what to expect in the future.
A little introduction to the barrels themselves first. The majority of our oak stock is neutral in flavour. Exploring what each different barrel will lend to the end product is something we are excited to investigate as we continue to age our beers. The development of our secondary fermentation culture will be a big part of the project, highlighting healthy fermentation and great flavour. We will be learning as we go and working to repitch into other projects.
Our barrels are stored on racks created by a metal fabricator based just up the road from us. This has allowed us to increase our barrel quantity without taking up too much space. With Sheffield's rich steel history, local industry is important to us, so we're proud to have supported small business in this project too.
Anyway, on to the beers. Out in the wild (so to speak!) right now are…
Brett Tangerine Pale (7.3%)
We started off with two barriques of a pale, very lightly hopped wort, which was initially barrel fermented with Sacchromyces Bruxellensis Trois (recently reclassified from a Brettanomyces strain). In primary fermentation this produces a wonderfully orangey flavour. The fermentation took close to 40 days at 12°c, which is the ambient temperature in our cellar. As we sealed the barrels, a dose of Brett Lambicus was added for another 6 months before tasting again. The Brett has really worked it's magic here and eaten up literally all of the sugar (the final gravity came out at 1000.67) leaving behind a beautifully dry beer. To finish, we dry hopped with Citra and added orange peel to enhance the fruity esters of the yeast as well as adding some sweetness to boost the body, before packaging into kegs. This beer is one of six we'll be taking to the Eebria Taproom in London this Saturday 11th November.
Methuselah 2 (8.1%)
For this one we took the first runnings of our core dark beer, Black Mass. It first went into a French oak barrel in August 2016, with the startings of our house culture of Brett and Lacto strains. After a couple of months this was split between a pair of American oak barrels to spread the culture, before being topped up with pre-fermented Black Lurcher (a 7% dark ale) and repitched with additional yeast blends from other barrel fermentation projects. 6 weeks prior to racking into cask, the beer was flavoured with vanilla, cocoa nibs and sour cherries to add some sweetness and round out the flavours better. The result is an 8.1% stout with the wild yeast apparent on the aroma and a fruity palate, where the barrel character has contributed well to the final flavour without any overpowering woodiness. The final pH has come out at 3.92 so whilst it's not overly sour there's a fresh tart nature that balances well with the oak character and stout backbone of the original brew. This beer made its first appearance on cask at Salford Independent Beer Festival and went down really well.
Cheers!
Last Updated: 15th February 2018