Don't Go Bacon My Heart...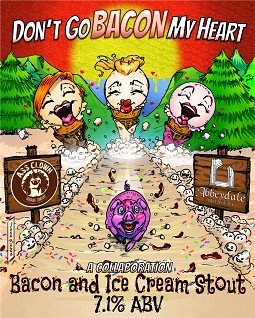 BEHOLD our most recent transatlantic collaboration! After visiting Ass Clown Brewing in North Carolina last year, we were absolutely blown away by their astonishingly tasty, culinary inspired beers, dreamed up by head brewer Matt. For his trip back across the pond to visit us here in Sheffield, we really wanted to make the most of his remarkable knowledge and bring the worlds of beer and food together. The result? A bacon and ice cream stout, weighing in at 7.1% ABV.
We got in touch with our good friends at Whirlow Hall Farm Trust, who provided us with 30kg of locally reared, high welfare smoky bacon (according to Matt, using unsmoked bacon results in beer that tastes of hotdogs, not quite what we were aiming for!) which was BBQ'd outside the brewery by our Sales Director and Pitmaster Dan. Dan has long wanted to create a hearty, meaty beer, so this was a bit of a dream come true. 10kg was added to the hopback during the brewday itself, overseen by our brewer Scott who devised the recipe along with Matt, with the remaining 20kg (well, let's say 19ish… sandwiches may have happened) being used to add it's delicious smoky flavour during fermentation. The ice cream character is present in scoopfuls, with plenty of vanilla and lactose in the recipe for a velvety, sumptuous mouthfeel.
The incredible artwork has been created by Jake Baggs, who has worked with Ass Clown on a number of projects in the past and has given our collaboration a fun yet slightly subversive image which fits it absolutely perfectly! Here's a sneak peek at his initial ideas below...
We can also recommend "going the whole hog" and ramping up this ridiculous flavour combination even further! Ted and the team at the Itchy Pig micropub in Broomhill (Sheffield CAMRA's current Pub of the Month!) hosted us for a fantastic evening of bacon beer ice cream sundaes, using Sheffield's favourite Our Cow Molly ice cream and complete with salt and vinegar pork scratching dust sprinkled atop the concoction (we're really not sure why this worked, but trust us, it was epic.
The beer is available now and is absolutely flying out of the brewery. Who ever said pigs can't fly?!
Cheers!
Last Updated: 13th October 2017