Sunfest charity totals confirmed!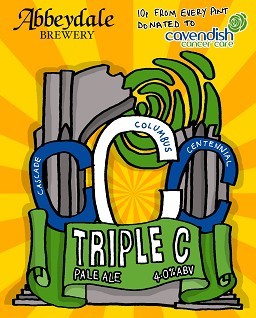 Our charity beer has officially now all SOLD OUT and left the building, and so we are delighted to be able to announce the total monies raised at Sunfest this year!
First up – our Cavendish Cancer Care collaboration brew. We made the biggest batch possible on our brewkit of the deliciously hoppy Triple C, and it's gone down a treat with pubs as far afield as Newcastle, Coventry and Caernarfon (with plenty being supped in Sheffield too of course!). 10p from every pint sold will be donated straight to the charity – a grand total of £1064. In addition, the Cavendish Cancer Care team were a valuable presence over Sunfest and they raised £939.70 during the festival, from a combination of cake and pork pie sales, the VERY popular tombola (which became almost a competitive sport at times!) and donations from part used beer tickets.
Seven Hills Womens Institute were invited by Cavendish to take over the cake stall for Sunfest Saturday and raised a whopping £600, which will be split equally between Cavendish Cancer Care and Mental Health Action Group Sheffield. Whirlow Hall Farm raised £800 after all costs, to go straight to their charity, Whirlow Hall Farm Trust. And finally, the ever popular Rain Rescue dog show raised £457 on the Sunday of Sunfest, and there were lots of waggy tails on the day, so another great success. Congratulations again to our 2017 Best in Show Champion, Digby!
A huge thank you to all of you who joined us for Sunfest, donated your beer tickets, munched on a hog roast sandwich or a beer brownie, or paraded your pooch in the dog show. And also of course to all of our customers who have had Triple C on their bars in recent weeks.
Keep your eyes peeled for details of further fundraising events later in the year, as our relationship with our official charity partners for 2017, Cavendish Cancer Care, continues!
Cheers,
Laura
Last Updated: 23rd August 2017