Dr Morton's Amazing Pumpclips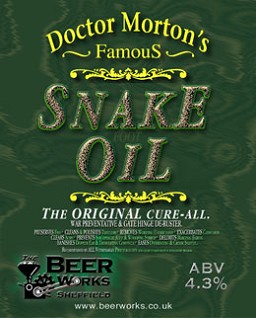 The Dr Morton's range of beers and pumpclips are produced for Abbeydale Brewery by artist and designer Ivan Bradley. The clips are a real success, every beer sells out with ease and the beers are now brewed two or three times in the month if there is capacity available. The clips have a very distinctive and coherent branding whilst retaining the ability to surprise and amuse. The clips provide a talking point on the bar and are popular with Publicans and have become collectors items. For Abbeydale Brewery they have provided a source of easy additional sales.
Abbeydale Brewery has always put out beers under the Beerworks name and logo; originally this was an alternate name for the brewery and has always been used for occasional beers.
Some years ago Ivan Bradley, artist and designer for Abbeydale, came up with the idea for a range of pumpclips initially based on a medicine-show theme with names such as Snake Oil and Horse Tonic. He called these the Dr Morton's series. Ivan, being in charge of the website at the time, put the few images he had up on the site and from time to time mentioned how well he thought the clips would do to sell beer.
Patrick Morton, owner of Abbeydale was not impressed. To be fair one of Ivan's original names was Goat Flush (the "jewel in the crown" according to Ivan). Patrick, who had no intention of ever producing bottled beer, said he thought they would do better as bottle labels and there the matter rested until late 2007.
In 2007, Mark Hill of Brewers Wholesale, contacted Abbeydale with a view to taking their beers and said how much he wanted to try the Dr Morton's beers because he loved the pumpclips. So Patrick bowed to commercial pressure and a deal was struck where a single brew of each of the Beerworks beers would be produced each month with Brewer's Wholesale committing to take the majority of the brew and Abbeydale undertaking to sell the rest to their regular customers. The first Dr Morton's, Snake Oil, was launched in March 2008. Initially Dr Morton's were bi-monthly.
Despite Patrick's misgivings, these new beers with their weird pumpclips sold well for Brewer's Wholesale who would often make additional orders and regular Abbeydale customers began to get quite cross when they "missed out" on getting a nine of the new Dr Morton's. The pumpclips also quickly became collectors items. On a Meet-the-Brewer night at the Temple Hotel in Matlock almost all of the questions were about the Dr Morton's range. So, given their success and Ivan's continued inventiveness, it was decided to make just about all of the Beerworks specials Dr Morton's.
Now, the Dr Morton's beers are brewed two or even three times in the month (brew length approx 12bbls initially, rising to up to 35bbls currently, less for higher ABVs of course), if there is the brewing capacity to do so, and always sell out with ease. For the brewers they provide a chance to try something new and different and much fun is had formulating new beers. For the customers they provide entertaining pumpclips - people often ask for them to be taken off the pump so they can read them properly. So, for the Publican they provide a talking point on the bar.
The design of the pumpclips - there are about 23 in the set so far - is characterised by the background which is nearly always green and with an emphasis on typography rather than imagery, through many of them have images too. Ivan continues to generate names and designs with no end in sight. He says that to check he has a design which fits the overall scheme he imagines an old fashioned village shop which sells everything with an little old shopkeeper who buys his vast range of remedies from the travelling medicine man, Dr Morton and asks himself if it would fit. Dr Morton, of course, is a compound mythical, charismatic, salesman, barker, showman and representative to general stores, agricultural merchants and veterinary supply houses. If the design works as a Dr Morton's product on the shop shelf, it will work on the bar. The shop of course is timeless - maybe a wild west general store or a 1940s grocers or ironmongers. Such is the mind of an artist.
We do revisit these beers from time to time and over the course of a few years expect to cycle through all the beers again. Some have already had more than one outing.
The pumpclips are also humorous, often with a left field take on the name and an apparent misspelling which adds to this. Some are incredibly wordy, some are a simple name and image. Apparently Ivan understands how all this fits together. The sales are the proof of the pudding. In November 2008 the Dr Morton's special was Goat Flush. Apart from the odd double take when selling the beer on the phone, there was no outcry and the beer sold well, by then people had got the joke, understood there was always a good beer behind the weird green pumpclips and were happy to drink Dr Morton's Goat Flush, although it did make an appearance on the bad taste policing website Pumpclip Parade. The only one of ours to do so as far as we know.
As a set we think these pumpclips are interesting, entertaining, sometimes provocative and extremely coherent as a brand. They are instantly recognisable and yet their diversity is such that the brand is unlikely to run out of steam anytime soon, so long as Ivan and his sense of humour remain intact. Coming up this year have gems such as Moose Abuse Juice and Insane Root.
Last Updated: 17th May 2021
1 Comment:
Was delighted to come across the Dr Morton beers on a recent trip to Sheffield, made my day and the beer was excellent. - 29th September 2021 at 3:08:14 pm
Add Your Comment