Poet in Residence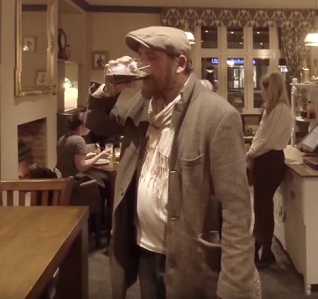 Last summer, we were invited to take part in the "Poet in Residence" project as part of Sheffield's Year of Making programme (read more about the project at opusindependents.com/projects/wordlife/wordlife-projects/digital-poet-in-residence/) which was to culminate in a showcase of readings given at Wordlife's 10th birthday party in November.
We were paired up with the wonderful Gav Roberts, a self-proclaimed beer fan who brought with him an infectious enthusiasm and an absolute passion for his work. As part of the residency, Gav had to spend a minimum of ten hours with us, learning about the way we work, interviewing our team and of course sampling some of our wares, which we're sure he found particularly arduous…! We had such a laugh we're thinking of taking him on permanently ;)
The reading itself took place at Weston Park museum, where Gav was let loose alongside the three other poets in residence – Charlotte Ansell, Gevi Carver and James Giddings, who had been working with Portland Works, Hope Works and Archipelago Gallery respectively. Not only was there a more traditional reading, inside the museum itself (a sell-out event!), but each poet had their work broadcasted on the side of the building… a triumphant spectacle indeed! It was a great night and felt like such a fitting tribute to our wonderful industrial city and its history.
We hear Gav's also been working on an Abbeydale-themed epic, fitting in oodles of our beer names, which we absolutely can't wait to hear!
A massive thank you to Now Then magazine and Wordlife for having us on board.
Cheers!
Last Updated: 10th February 2017