Same great beer, fresh new look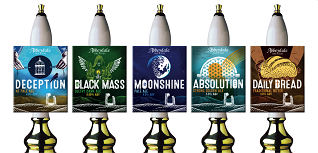 We are absolutely delighted to announce that this week we are launching a rebrand for our renowned core range of cask ales – Moonshine, Deception, Daily Bread, Absolution and Black Mass. With the previous artwork having been in use since the brewery's formation in 1996, we knew it was time to make a change. The new look is intended to refresh the range whilst paying homage to our rich history and ensuring that the familiarity with our most popular beers is not lost… and most importantly, the beers themselves have not changed one bit!
The new artwork has been created by local artist, well-known print-maker James Green, in conjunction with Field Design, a small design agency based at the Workstation in Sheffield. Jonathan Briggs, Creative Director at Field Design, said: "Going away from our first meeting with Abbeydale Brewery was a great feeling. We were being asked to update and freshen up a Sheffield institution. You can't go into a pub in Sheffield (and beyond) without Moonshine or one of its partners on the bar. From our perspective, this was about embracing heritage and maintaining a strong link with Sheffield, to produce a set of designs that are both steeped in tradition yet fresh and bold." The project, which has been ongoing for the past 6 months, rounds off our 20th anniversary year nicely and seems a pretty perfect way to kick off year 21.
We feel the outcome of the project will allow us to cement our place in the current market, as a brewery with the experience and knowledge to consistently deliver a top quality pint, along with the drive and ambition to continue creating beer which excites the publican and beer drinker alike.
We hope you love the new designs as much as we do!
Cheers,
All the team at Abbeydale Brewery
Last Updated: 18th January 2017