So long, 2016…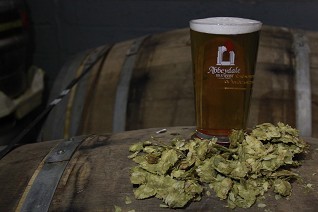 Phew! What a year it's been, and a worthy way to celebrate our 20th anniversary. We've sold over 2.5 million pints of beer, with over 50 specials hitting bars around Yorkshire and beyond. Our brewhouse production capacity has been increased by 25% with the installation of a brand new shiny 60BBL fermenter and conditioning tank. We also released our first ever small pack, including a triumphant return for old favourite Last Rites. We said goodbye to Brimstone, but bolstered our core range with our first permanently available keg… Heathen!
We've created many collaboration beers with a whole host of lovely local business and fellow breweries. A particular highlight for us was being invited by our pals at Brewdog Sheffield to take part in the nationwide Brewdog Collabfest, where Iced Tea Dead People, our peach iced tea beer made with sencha from our lovely neighbours at Birdhouse Tea Co., went down a storm! It was also an honour to work with local music legends 65 Days of Static to brew up Red Parallax, a Belgian style cherry red ale to celebrate their new album and worldwide tour.
It's been a corker of a year for our two pubs, too. At the Rising Sun, we had a record-breaking Sunfest for the tenth year of the festival, and the Devonshire Cat has recently been given a sleek and modern new look in a total refurbishment!
So just what does 2017 have in store to beat all of that?! We don't want to give away all our surprises just yet, but a little taster won't hurt! Some of you may already know that for the past few months, we've been working hard finalising a rebrand of our core range. We've had the existing artwork for the past 20 years, and the time has come to make a change. We hope you'll agree that the new artwork is in keeping with our character, and pays homage to the original design, but gives our beer a more modern appearance which is more reflective of the quality of the drink behind the pump clip.
Secondly, keep your eyes peeled for news on our upcoming #FunkDungeon project. Intrigued? You should be!
We've also got yet more exciting collaborations in the pipeline and a plan for Heathen to be the start of a brand new range, with more artwork from the wonderful James D Murphy.
It's gonna be a good 'un!
With very best wishes for the year to come,
From all the team at Abbeydale Brewery
Last Updated: 29th December 2016