Beer and food pairing at The Showroom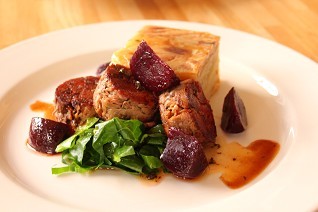 When you first think of pairing beer and food, many people might not be able to imagine any further than a curry with a pint of lager. However, in recent years with the upsurgence of craft brewing, the wealth and breadth of flavours now possible in our humble beer is absolutely beyond compare, and we at Abbeydale believe that beer can do an incredible job at complementing and contrasting with a massive array of foodie flavours. And so we've paired up with the super-talented and imaginative culinary team at the Showroom to put together a very special menu:
Puffed beer crackers with ale-e-oli dip
Duck ballotine, goats cheese, beetroot, almond and cherries
Paired with Red Parallax, 4.8%, a Belgian style cherry ale brewed in collaboration with local music legends 65 Days of Static.
Sea trout, mango salsa, coriander crisp
Paired with Bear Hunter, 4.1%, a Mount Hood and Azacca hopped pale ale.
Venison ragu, parmesan mash, romesco cauliflower, vegetable crisps
Paired with Full English Breakfast Stout, 4.9%, a dark beer brewed with coffee, maple syrup and smoked malt.
Grilled mackerel, tomato, feta crumb, basil
Paired with Hop Smash, 7.4%, a grapefruit IPA brewed in collaboration with Kuhnhenn Brewing Co from Michigan.
Rabbit loin, pancetta, spiced carrot, rabbit jus
Virgin Tripel Saison, 8.5%, a spiced Belgian saison with cardamom, star anise and liquorice root. Brewed in collaboration with De Noord-Hollandse Bierbrouwerij.
Spiced plums, brimstone sabyon, iced yoghurt, malt tuille
Double Brimstone, 8.1%, a strong American Brown Ale and part of our 20th anniversary celebration series.
Finally we'll be finishing off the meal with Last Rites truffles, made with our sumptuous 11% barley wine.
The event is taking place on Saturday 26th November and there are still a few tickets available! Please call the Showroom directly on 0114 275 7727 or visit the box office to book.
Last Updated: 18th November 2016