Beer & Pizza Pairing Party!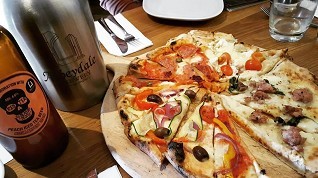 Here at brewery HQ, Team Abbeydale are professed foodie lovers. We love good food almost as much as we love good beer, and the marriage of the 2 together is just exactly how it should be done in our books!
There's pizza, and then there's PIZZA. And we think the guys at Proove have nailed it. Using the freshest and best quality ingredients, they make pizza the 'Napoli way' with delicious crispy bases, the finest Italian meats and cheeses, all baked in their incredible wood fired oven.
And what, we ask, would you prefer to wash down that pizza slice with? BEER!! Of course. And we wanted to take the opportunity to showcase some of our favourite beers of the moment along side a specially crafted menu of antipasti, pizzas, parmigiana and even a naughty dessert.
Tickets are available from Proove:
Proove Broomhill | 261 Fulwood Rd | Sheffield | S10 3BD
By telephone on 0114 294 5185
Join us in the feast!
Tuesday 15th November, 7.30pm
6 courses matches with 6 beers
£30
Here is our carefully crafted menu to excite the taste buds….
Parmigiana with Goat's Cheese
Served with a glass of ICED TEA DEAD PEOPLE
Peach iced tea beer – 4.6%
-----
Antipasti Selection
A selection of meats, cheeses & vegetables, served with rosemary and salt focaccia
Served with a glass of FLOR DE LA MAR
Centennial hopped pale ale – 4.1%
-----
Pizza Gamberetti
Fior Di Latte, San Marzano tomatoes, gamberetti, asparagus, garlic, basil oil
OR
Pizza Verde (V)
Fior Di Latte, San Marzano tomatoes, asparagus, courgette, artichoke, garlic, basil oil
Served with a glass of FROLICKER
Sorachi Ace hopped Session IPA – 3.8%
-----
Pizza Quattro Formaggi
Fior Di Latte, Ricotta, Parmesan, Gorgonzola
Served with a glass of HEATHEN
American pale ale – 4.1%
-----
Calzone Vesuvius
Salami Picante, speck, red onion, Fior di Latte, chilli
OR
Calzone Fungi (V)
Portobello mushrooms, red onion, Provola (smoked Mozzarella), garlic, chilli
Served with a glass of FULL ENGLISH BREAKFAST STOUT
Smoked malts, cacao, coffee and maple syrup – 4.9%
-----
Chocolate Cheesecake
Served with macerated cherries, steeped in Amaretto
Served with a glass of RED PARALLAX
Belgian cherry red ale – 4.7%
Last Updated: 10th November 2016