Introducing Heathen American Pale Ale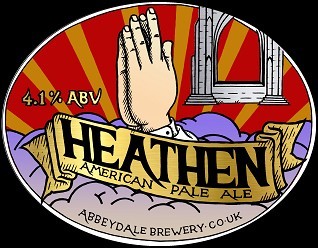 We would like to announce the newest permanent beer to our range.
When we first started brewing keg beers early in 2014, we set about a series of one-off beers that were (imaginatively) named 'Pale Ale #1', 'Pale Ale #2' etc. Our favourite recipe was 'Pale Ale #6', which formed the basis of Mosaic. The initial artwork for Mosaic was originally intended to be a stop gap and the long term plan had always been to rebrand the beer at some point.
So we set about upon a task of coming up with a new name for this wonderful beer. We wanted something that was worthy of us shouting about, something that recognised our past, but also can help drive the image of the brewery forward in this ever changing industry. We enlisted the talents of a new, young artist who is starting to create a name for his work, especially in relation to good beer, and I hope you agree he has done a fine job. We hope this is the start of a long working relationship between him and the brewery.
We present Abbeydale Brewery 'Heathen – American Pale Ale', with artwork by James D Murphy.
Last Updated: 24th May 2016