Sheffield Beer Week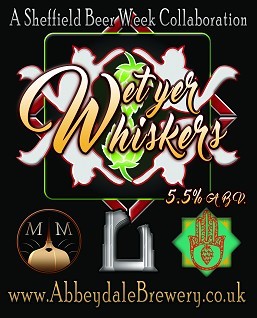 Now in just it's second year, Sheffield Beer Week has already firmly established itself as a key part of the events calendar, not just here at Abbeydale but across Sheffield and beyond. Co-ordinated by beer guru Jules Gray, who also runs bottle shop Hop Hideout, Sheffield Beer Week hosts events galore and is a real showcase of the breweries, pubs and other beery venues worth shouting about in our fine city.
Sheffield Beer Week also handily happens to be at the same time as the SIBA (Society of Independent Brewers) Beer X conference and festival, meaning that there are already hundreds if not thousands of beer lovers in the area and plenty of brewery folk around to both lead and attend events.
Here's a little overview of what we've got going on…
Firstly, we've made a special collaboration beer in conjunction with beer bloggers Mashtun and Meow (mashtunandmeow.co.uk) and food and beer events duo Karma Citra (@KarmaCitra on twitter). "Wet Yer Whiskers" is a 5.5% unfiltered coffee white stout brewed with oats, lactose and cacao nibs. Look out for it popping up on bars across the city!
On Tuesday 15th March, our Office Manager Laura will be teaming up with Liz Casserly, our wonderful GM down at the Devonshire Cat, for a women's networking event and tasting session. From 7pm, free entry.
Also on Tuesday 15th March, our Sales Director Dan and the beardiest of our brewers, Jim, will be hosting the online Craft Beer Hour from the Rising Sun on Fulwood Road. Expect tweets about the upcoming celebrations for the brewery's 20th birthday, including our first foray into bottling. There'll also be a competition to win a bottle from the very first batch! Join in on twitter using #craftbeerhour between 9 and 10pm, or if you're in the area pop along and have a pint!
On Saturday afternoon (19th March) Liz at the Devonshire Cat is also hosting a tasting session featuring oodles of our beers, perfect if you haven't had chance to try our whole range yet.
For more of what's on during the week, a full list of events is available on the Sheffield Beer Week website, sheffieldbeerweek.co.uk.
Some of the Abbeydale team will be spending time at the Beer X conference (Dan's even presenting a little speech!), and we're having a big night out at the festival on the Friday too, so please do come and say hello if you spot us!
Last Updated: 10th March 2016